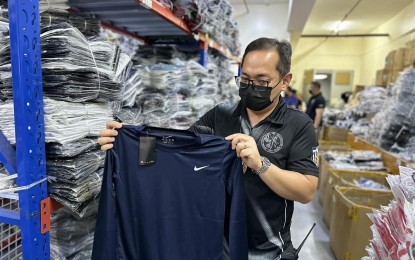 MANILA – Customs authorities padlocked a storage facility in Binondo, Manila after it was found to contain about PHP10 billion worth of counterfeit signature bags, shoes, and other products during a raid on Tuesday.
In a statement Wednesday, the Bureau of Customs (BOC) said a raiding team headed by the Customs Intelligence and Investigation Service - Manila International Container Port (CIIS-MICP), implemented the letter of authority signed by Customs Commissioner Bienvenido Rubio after receiving derogatory information on the same day.
Upon inspection of the warehouse, the team found imported assorted clothing apparel, shoes, general merchandise, kitchenware, electronics, and beauty products.
These counterfeit items have infringed trademarks, such as Nike, Coach, Adidas, Guess, Louis Vuitton, Dior, and Gucci.
The team then proceeded to temporarily padlock and seal the warehouse.
"Our BOC officials used all available resources and tools to thwart this attempt to enter such a huge amount of counterfeit items into our market. Imagine what this could do to our local producers and the foreign brands that invest in us," Customs Deputy Commissioner for Intelligence Juvymax Uy said.
An inventory of the goods will be conducted by a Customs examiner, to be witnessed by agents of the CIIS and Enforcement and Security Service.
The BOC added that the owners of the goods would be asked to present importation documents or proof of payment.
If found without proper documents, seizure and forfeiture proceedings will be conducted against the shipments for violation of Section 1400 (Misdeclaration, Misclassification, Undervaluation in Goods Declaration) in relation to Section 1113 (Property Subject to Seizure and Forfeiture) of Republic Act 10863, also known as the Customs Modernization and Tariff Act.
The operation was also in coordination with the Criminal Investigation and Detection Group of the Philippine National Police, and the Task Force Aduana of the Philippine Coast Guard. (PNA)