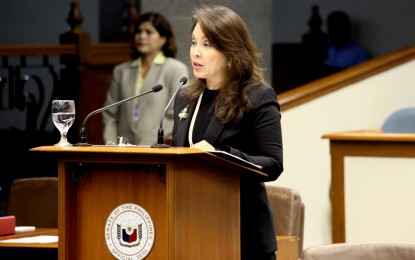 MANILA – Senate President Pro Temp[ore Loren Lgarda has filed a resolution recognizing Filipina scientists in commemoration of the international Day of Women and Girls in Science on Feb. 11, as declared by the United Nations General Assembly.
In her Senate Resolution No, 501, Legarda said the distinction of National Scientist is the highest honor given to a Filipino man or woman of who has made remarkable contributions in one of the different fields of science and technology in the country
Legarda named Scientists Fe Del Mundo, Carmen Velasquez, Encarnacion Alzona, Luz Oliveros-Belardo, Clara Lim-Sylianco, Dolores Ramirez, Gelia Tagumpay Castillo, Clare Baltazar, Lourdes Cruz, Mercedes Concepcion, and Perla Santos-Ocampo
Data from the Department of Science and Technology - Science Education Institute (DOST-SEI) shows a significant increase in the number of women in the field of Science, Technology, Engineering and Math (STEM), and data from the Philippine Statistics Authority (PSA) for 1990 to 2015 show that nearly half of the country's total science and technology (S&T) workforce is composed of women.
Legarda said other study also showed that the country had over 3.7 million women who have science and technology (S&T) degrees out of ten (10) million science and technology (S&T) bachelor's degree holders in 2015.
She pointed out that there is still a high gender disparity in the fields of Science, Technology, Engineering and Math (STEM) professions such as in the fields of Engineering and Architecture;.
"Despite improvement in bridging gender gaps in the field of science in the Philippines, there are still gender inequalities that need to be addressed. Women and girls in the field of science in our country continue to suffer from discrimination, stereotyping, and harassment" Legarda said in her resolution. (PNA)