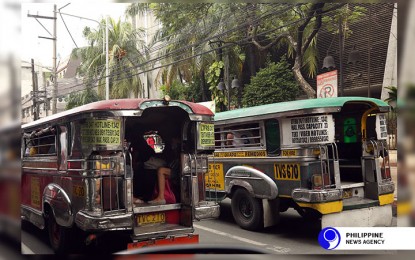 MANILA – President Ferdinand R. Marcos Jr. on Wednesday said he would look into the growing calls to postpone the planned phaseout of traditional jeepneys by June 30.
"We'll talk about it," Marcos told reporters on the sidelines of an event at the Rizal Park in the City of Manila, when asked if the scheduled phaseout of traditional jeepneys on June 30 will push through as part of the public utility vehicle (PUV) modernization.
This, as he admitted that the PUV modernization program needs to be implemented "in a different way."
Marcos said he would study the appropriate timeframe to introduce electronic jeepneys (e-jeepneys), adding that it is "still not urgent" to mandate the use of modernized vehicles.
"We have to implement it in a different way. 'Yung modernization siguro, 'yung (On the implementation of the modernization program), we have to look properly at what the real timetable is for the introduction of electric vehicles, kung talagang kailan, kung puwede na ngayon (When should we introduce it? Is it necessary now)," he said.
"Kailangan pag-aralan natin ang timetable, hindi ganoon kasimple. Ito'y nakita namin sa pag-uusap natin sa mga car manufacturers na sinasabi nila kasi nage-encourage tayo electric vehicles. Sabi nila puwede tayong gumawa ng electric vehicles pero aayusin niyo muna 'yung source of power (We have to review the timetable. It's not that simple. Car manufacturers are saying that we are encouraging electric vehicles but we still need to fix our source of power)," Marcos added.
While Marcos acknowledged that it is necessary to implement the PUV modernization program, he noted that there are several issues that need to be addressed, including the country's apparent lack of capability to depend on electronic vehicles (EVs).
Marcos said he would also consider the condition of the traditional jeepneys.
He said the passengers' "safety" will be factored into the review of the implementation of the PUV modernization program.
"At the same time, to keep the vehicles safe, sa aking palagay dapat ang puwedeng gawin ay inspeksyunin 'yung mga vehicles kahit luma. May luma naman na maganda pa rin. May luma naman na puwede pang gamitin (Perhaps, we could inspect the old vehicles and check if we could still use those)," Marcos said. "So, 'yan ang mga issue na kailangan pag-aralan (these are the issues that we need to study)."
On Tuesday, the Senate unanimously adopted the resolution filed by Senator Grace Poe urging the Land Transportation Franchising and Regulatory Board (LTFRB) to postpone the planned phaseout of old jeepneys.
Various transport groups have announced their plan to stage a weeklong strike starting March 6 to contest the impending phaseout of traditional jeepneys.
Marcos hoped that the public transport groups would reconsider their planned strike.
"It's not that simple but I'm hoping na dito sa mga initiatives na iniisip natin eh makumbinsi naman natin ang mga transport groups na huwag na munang mag-strike dahil kawawa talaga ang tao at marami pang naghihirap at mas lalo pang maghihirap 'pag hindi makapasok sa trabaho (that our initiatives would convince transport groups not to stage a strike because commuters will suffer, especially those who need to go to work)," he said.
Marcos, nevertheless, ensured that the government would offer free rides to commuters, in case the seven-day transport strike push through.
Possible defects
At the House of Representatives, Deputy Speaker and Batangas 6th District Rep. Ralph G. Recto has urged the government to reevaluate the PUV modernization program to trace and correct possible defects.
In a statement on Wednesday, Recto likened the jeepney fleet replacement program to a car that needs to undergo regular checkup, "so that if factory defects are found, then these can be corrected."
"Di ba yung kotse nga may (Isn't it that a car has a) preventive maintenance schedule, kaya dapat ganun din ang (the same goes to the) jeepney modernization program There is no harm in looking under the hood of the program. A tune-up is not a bad thing," he said.
He said the government should look into the "catalogue of complaints" -- from financing to roadworthiness to affordability -- before proceeding with the program.
All stakeholders, he said, are united on the idea of modernizing the jeep under a program that is affordable, just, consultative and democratic.
"So itong panawagan na i-evaluate ang programa ay (So, this call to reevaluate the program is a) beneficial speedbump to ensure that the program will not crash," Recto said. "Policy recklessness is more dangerous than reckless driving."
Recto also called for a "fleet inventory" to determine how many modern jeepneys are still running.
He said this should include an assessment on the maintenance expenses of modern jeepney operators, the availability of spare parts and the durability and roadworthiness of modern jeepneys.
He also urged the government to take "a dipstick reading" of the income of drivers and cooperatives, "if they are able to amortize the units."
By January 2020, the Land Bank of the Philippines and the Development Bank of the Philippines had already approved loans for the purchase of 2,122 units worth PHP4.46 billion.
He said the government should look if operators are able to pay their installment fees on time, the success rate and the bankruptcy ratio.
Another area of review, he said, is the government's record in spending appropriated funds for the program, citing an official report showing a mere 0.3 percent disbursement rate. (with Jose Cielito Reganit/PNA)