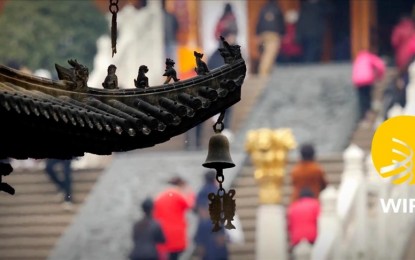 GENEVA – Demand for patent protection continued to grow in 2022, with innovators in China, the United States, Japan, South Korea and Germany leading filings under the Patent Cooperation Treaty, the World Intellectual Property Organization (WIPO) said Tuesday.
The total number of applications filed under the international trademark system, known as the Madrid System, reached 69,000 in 2022.
US-based applicants filed the largest number of international trademark applications with 12,495, followed by those in Germany (7,695), China (4,991), France (4,403) and the United Kingdom (4,227).
Among the top 15 countries of origin in the international trademark system, only three –the Netherlands (+7.4%), South Korea (+2.1%), and Türkiye (+5.2%)– recorded growth from 2021 to 2022.
In contrast, Germany and Italy saw the sharpest declines with –12.5 percent and 13.9 percent, respectively.
"International IP filings largely held up in 2022. Despite difficult economic conditions and a decline in risk finance, businesses continued to invest in innovation," said WIPO Director General Daren Tang.
China fuels design applications
"China's entry into the Hague System – WIPO's international register for industrial designs – fueled design applications from China and the rest of the world, showing that multilateral approaches to international cooperation can deliver benefits for everyone."
Russia's participation in the international intellectual property system was accompanied by declines in the case of all three systems.
"So patent filings by Russian applicants are down. International patent filings are down by 14.5%, international trademark applications are down 6.6%, and industrial design applications are down 30.9%," said WIPO chief economist Carsten Fink at a news conference.
"We also saw a significant impact in the extent to which trademark applicant designated Russia in their international trademark application."
So overall, there was a decline of 31 percent in Russian designation in international trademark applications.
"There is one interesting exception; we actually saw an increase in international trademark designations in Russia by Turkish applicants of some 27% in 2021," Fink said.
In 2022, the number of designs included in international applications under WIPO's Hague System for the International Registration of Industrial Designs increased by 11.2 percent to reach 25,028.
Still, following exceptional growth of 15 percent in 2021, the use of the international trademark system for brand protection in 2022 declined by 6.1 percent, the most significant drop since 2009.
The total number of applications filed in 2022 was about 69,000.
Trademark protection
The economic disruptions caused by the coronavirus disease 2019 (Covid-19) pandemic in 2021 prompted firms to introduce new goods and services, which helped fuel the exceptional growth in international trademark protection.
Although lower than in 2021, the total number of applications filed under WIPO's Madrid system for the international registration of trademarks in 2022 was still 8 percent higher than in 2020.
In 2022, China continued to be the top origin of international patent system (Patent Cooperation Treaty), as Huawei technology remained the top filer, with 70,015 – a modest growth of 0.6 percent from the previous year.
The US came in second with 59,056 applications – a 0.6 percent drop on 2021). Japan followed with 50,345 applications (+0.1%). South Korea (with 22,012) and Germany (17,530) rounded out the top five applications, both experiencing growth with 6.2 percent and 1.5 percent, respectively. (Anadolu)