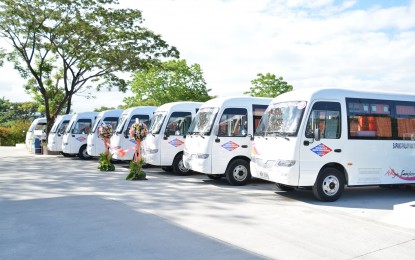 MANILA – Senator Francis "Chiz" Escudero on Wednesday said the government should evaluate and study the physical condition of modern jeepneys saying his personal experience shows that they are good only for two years.
He cited his experience in Sorsogon when he was still the governor, where modern jeepneys "spoon-fed by the government to cooperatives have become unusable after two years."
As such, Escudero said there's a need to study the jeepney modernization program amid reports that some vehicles are breakdown-prone and have been grounded for lack of spare parts.
The only benefit, according to Escudero, is that spare parts from the broken modern jeepneys were taken to be used in other units.
The Senate is set to hear the modernization program on Friday (March 3) after several transport groups called for a weeklong transport strike
The evaluation, according to Escudero, should also be a "welfare check" on the participating drivers and operators if they have been able to meet amortization payments on units whose price tags had been assailed as higher than SUVs.
"We have been sold lemons. So how can these be modern jeepneys when they conk out after a few years? How can they be better replacements of sturdy 30-year-old jeeps?" the senator said in a statement.
He also cited the lack of mid-implementation assessment needed and a lack of checklist such us, Route Rationalization Plan saying the jeep replacement is only a part of modernization .
"We are badgering drivers to enroll in fleet modernization. Pero kamusta naman kaya ang ang gawain na nakatoka sa gobyerno tulad ng regulatory reform, financing, at iba pa?"(But, what about the government, such as the regulatory reform financing and others, what are they doing)," Escudero said. (With a report from Leonel Abasola/PNA)