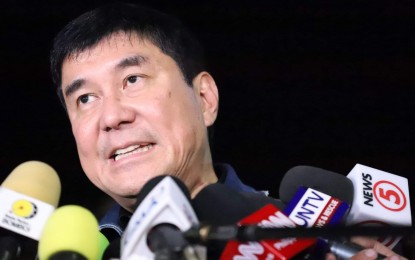 MANILA – The Commission on Elections (Comelec) dismissed the disqualification case filed against Senator Raffy Tulfo during the May 9, 2022 national and local elections.
In an eight-page resolution dated Feb. 28 and released Wednesday, the Commission en banc found no valid reason to reverse the decision of the Comelec 1st Division, which dismissed the March 4, 2022 petition filed by Julieta Licup Pearson.
"After a careful review of the records, the Commission en Banc finds no cogent reason to reverse and set aside the ruling of the Commission (1st Division) dismissing the Petition," the resolution read. "Without any valid ground for the reversal of the Assailed Order, the Motion should be dismissed."
The poll body noted that it was established that the motion "neither argues that the evidence on record is insufficient to justify the Assailed Order nor that the ruling arrived upon by the Commission (1st Division) is contrary to law," in accordance with the grounds set forth under Section 1, Rule 19 of the Comelec Rules of Procedure.
"Petitioner merely re-submitted the Petition in the form of the Amended Petition," it said.
The Comelec also said it no longer has jurisdiction over a disqualification case against Tulfo, who is now a sitting member of the Senate after having already been proclaimed as senator on May 18, 2022 and taken his oath of office on June 22, 2022, under Article VI, Section 17 of the Constitution.
"The Senate Electoral Tribunal assumes exclusive jurisdiction over all election contests relating to the members of the Senate," it said.
In her petition, Pearson sought to disqualify Tulfo due to alleged material misrepresentation, claiming that she is his legal wife and not Jocelyn Pua Tulfo, whom the senatorial bet declared in his Certificate of Candidacy as his spouse. (PNA)