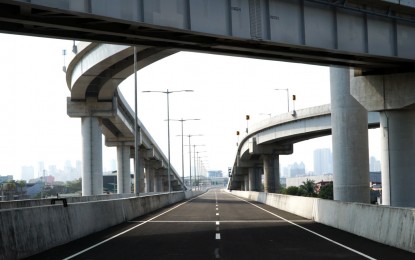 MANILA – The Department of Public Works and Highways (DPWH) has scheduled the opening of the Caloocan to España section in Manila of the North Luzon Expressway-South Luzon Expressway (NLEX-SLEX) Connector before the Holy Week.
In a statement Wednesday, Secretary Manuel Bonoan said motorists will be enjoying seamless access from NLEX to España Boulevard once the section is opened.
"We are targeting to open the España Section before Holy Week to help decongest vehicular traffic in Metro Manila, especially to and from the Caloocan, Malabon, Navotas, and Valenzuela (Camanava) area," he said.
Bonoan and Department of Transportation (DOTr) Secretary Jaime Bautista, together with NLEX Corporation President and General Manager Jose Luigi Bautista and Metro Pacific Tollways Corporation President Rodrigo Franco, inspected on Wednesday, the first 5.15-kilometer section of the four-lane NLEX-SLEX Connector Road extending from the end of NLEX Segment 10 in C3 Road, Caloocan City to the España Interchange along España Boulevard.
Once completed, it will connect NLEX Segment 10 to the end of Metro Manila Skyway Stage 3 at the Polytechnic University of the Philippines (PUP) in Sta. Mesa, Manila.
It will reduce travel time from SLEX-Alabang to NLEX-Balintawak from two hours to just 20 minutes.
The PHP23.2-billion NLEX-SLEX Connector Road is a joint implementation project by the Philippine Government through DPWH and Manila North Tollways Corporation (MNTC) under the Public-Private Partnership (PPP) Program.
The project alignment has mostly utilized portions of the Philippine National Railways (PNR) road right-of-way.
"Construction of the second section stretching from España Boulevard to Polytechnic University of the Philippines-Sta Mesa is being fast-track to provide trucks with an alternative route from the ports to the south and improve connectivity between Ninoy Aquino International Airport (NAIA) and Clark International Airport," added Bonoan.
Also present during the inspection were DPWH Undersecretary Maria Catalina Cabral, DOTr Undersecretary for Legal Affairs Reinier Paul Yebra, DPWH PPP Service OIC Director Pelita Galvez, DPWH Planning Service Director Alex Bote, Toll Regulatory Board Executive Director Alvin Carullo, DMCI President and CEO Jorge Consunji, and officials and representatives of MPTC and NLEX Corporation.
This year's Holy Week observance would fall from April 2 to 9. (PNA)