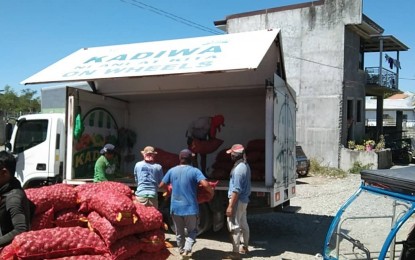 MANILA – To realize the administration's food security targets, the Department of Agriculture-Agribusiness and Marketing Assistance Service (DA-AMAS) said Wednesday it will secure direct transportation links between onion growers and buyers.
In a statement, the DA said this is part of efforts to improve the logistics in the country's agricultural value chain under the leadership of President and concurrent Agriculture chief Ferdinand R. Marcos Jr.
"In line with the directive of President Ferdinand R. Marcos Jr. to stabilize the prices of onion in the retail markets and help farmers increase their income, the Department of Agriculture, through the Agribusiness and Marketing Assistance Service, has strengthened its direct market linkage initiatives," the DA said.
The agency said the initiative is set to benefit both the market vendors and institutional buyers.
The DA added it is also working closely with its regional counterparts to address problems with transportation.
This included the utilization of Kadiwa delivery trucks to help farmers in the logistics.
"In Nueva Ecija, the DA-AMAS and DA Regional Field Office III-Agribusiness and Marketing Assistance Division provided logistical assistance to Valiant Primary Multi-Purpose Cooperative (VPMPC) and the Bagong Pag-asa Multi-purpose Cooperative, both based in Bongabon, which is an onion-producing municipality," the DA said.
The DA said it has transported thousands of kilograms of red and white onions to several areas in Metro Manila and nearby provinces from Feb. 22 to 24.
"A total of 4,260 kilograms of red onion and 610 kg of white onion were delivered to the L. Sanchez Farm, Batangas City Rural Improvement Club Marketing Cooperative, Ridad Integrated Farm, Agripreneur Farmers and Producers Association, as well as to market vendors of Guadalupe market and Las Pinas City public market," it said.
Besides easing the transport situation for farmers, the move also intends to lower the actual market price by eliminating the unreasonable markup usually incurred between the farmgate and retail price.
The administration earlier said middlemen must be eliminated from the system to ensure benefits both for farmers and buyers.
To date, the prevailing prices of local red onions in Metro Manila are set at PHP100/kg to PHP180/kg, while local white onions are at PHP90 to PHP120. (PNA)