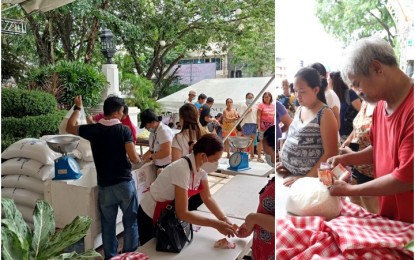 CEBU CITY – Thousands of Cebuanos took advantage of rice sold at P25 per kilogram in Kadiwa market at the Cebu Provincial Capitol.
Dr. Roldan Saragena, Cebu provincial agriculturist, noted an overwhelming turnout of Cebunaos who joined the queue to avail of the cheap rice sold at the two-day Kadiwa starting Monday or shortly after President Ferdinand R. Marcos Jr. led the launching of the Kadiwa ng Pangulo.
Saragena said the National Food Authority (NFA) recorded a total rice sale of PHP350,000, the highest among the commodities sold at the Cebu Kadiwa stalls.
The combined sales in the two-day event have reached over PHP1 million.
Marissa Adolfo, NFA-Central Visayas focal person for the Kadiwa program in Cebu, said a throng of buyers flocked to the capitol on Monday and Tuesday to buy NFA rice at PHP25 per kilo.
"Actually, we can see in the news about the overwhelming patronage of the people who really line up to buy the NFA rice. During the two-day, the NFA personnel could only take a break when the supply ran out, and we need to get some more bags of rice from our warehouse," Adolfo told the Philippine News Agency in an interview.
Adolfo said each person who lined up could buy a maximum of five kilos of rice.
The NFA disposed of 280 bags or a total of 14,000 kilos of NFA rice, she said.
Meanwhile, Marcos met with livelihood program beneficiaries of the Department of Social Welfare and Development during the Kadiwa product caravan in the Cebu capitol.
In a statement, the DSWD said the President shook hands with one of the beneficiaries of the Sustainable Livelihood Program (SLP) as he checked out the products on sale at the launching of Kadiwa ng Pangulo.
Kadiwa is an initiative of the Office of the President that aims to promote and bring local products of farmers, fisherfolk, and small business owners closer and directly to the market.
The SLP associations that joined the caravan are the Abuno Guitars Association; Talayong Badian Weavers Association; Catmon Deli Vendors Association; Poblacion 1 Carcar Pantawid Association; Liburon Footwear Manufacturing Association; Barangay Eight Livelihood Association; and Women of Ylaya Banana Chip Makers Association. (PNA)