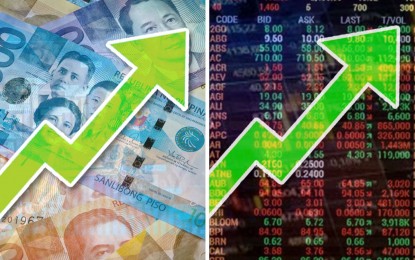 MANILA – The local bourse recovered on Wednesday despite the negative close of United States equities while the peso sustained its gain against the US dollar.
After several days of decline, the Philippine Stock Exchange index (PSEi) rose by 0.78 percent, or 50.93 points, to 6,607.13 points.
All Shares followed with a rise of 0.35 percent, or 12.19 points, to 3,539.36 points.
Most of the sectoral gauges also increased during the day, led by Holding Firms after it inched up by 2.45 percent.
It was trailed by Property, 1.25 percent; Mining and Oil, 0.39 percent; and Services, 0.07 percent.
On the other hand, Industrial declined by 1.13 percent and Financials by 0.61 percent.
Volume reached 715.8 million shares amounting to PHP7 billion.
Decliners led advancers at 100 to 92 while 44 shares were unchanged.
Luis Limlingan, Regina Capital Development Corporation (RCDC) head of sales, said PSEi regained its footing after several days of slide despite the negative close of its US counterparts.
"Investors seem to be optimistic regarding the better-than-expected releases of corporate earnings," he said.
However, Limlingan said "uncertainty remains as February inflation could be at the range between 8.5-9.3 percent", referring to the projection of the Bangko Sentral ng Pilipinas (BSP).
The projected range for domestic inflation rate in February this year is mostly higher than the 8.7 percent level last January, which is a fresh 14-year high.
Limlingan cited the rise in oil futures by around 2 percent "amid the speculation of strong economic rebound in China which offset worries about the US interest rate hikes."
Meanwhile, the local currency gained against the US dollar after closing the day at 54.98 from day-ago's 55.33.
It opened the day at 55.3, little change from its 55.35 start on Tuesday.
The local currency traded between 55.3 and 54.97, resulting in an average of 55.077.
Volume reached USD1.03 billion, lower than the previous session's USD1.2 billion.
Rizal Commercial Banking Corporation (RCBC) chief economist Michael Ricafort traced the peso's improvement for the second consecutive day partly to local monetary authorities' assurance that they are ready to tap its policy toolkit to help stabilize domestic inflation rate, which is expected to remain elevated in most of 2023.
Other factors that supported the peso include the lower-than-expected budget gap of the government in 2022, positive growth outlook for the business process outsourcing (BPO) sector, improvement of the PSEi and the weakening of the US dollar against major currencies, among others.
The government on Tuesday reported the rise of budget deficit for December 2022 to PHP378.4 billion against year-ago's PHP338 billion and month-ago's PHP123.9 billion.
However, the full-year budget gap reached PHP56 billion, lower than the PHP1.67 trillion in 2021.
For Thursday, Ricafort sees the peso to trade between 54.90-55.10 against the greenback. (PNA)