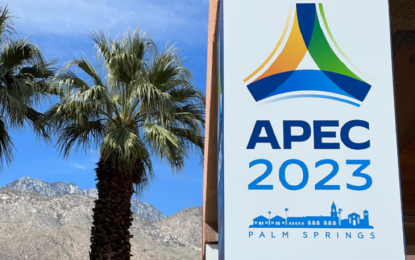 JAKARTA – The Asia-Pacific's economy grew 2.6 percent in 2022, plummeting from the 6.1-percent growth recorded in 2021, according to a new report published by the Asia-Pacific Economic Cooperation (APEC) Policy Support Unit.
The region's economy is expected to pick up in the short term, with gross domestic product (GDP) projected to expand by 3.1 percent this year, according to a statement issued by the Unit and received here on Wednesday.
"The combination of an enduring pandemic, high inflation coupled with rising interest rates and debts, as well as the ongoing geopolitical issues resulted in a significant slowdown in the global economy during 2022," said Carlos Kuriyama, the newly appointed director for the APEC Policy Support Unit.
"Both consumers and investors were cautious last year due to uncertainties and the gloomy economic outlook. As a result, demand and investment activities progressed slowly," Kuriyama said.
Inflation in APEC reached 5.8 percent in 2022, the highest rate to be recorded since the financial crisis in 2008, when it peaked at 6.6 percent.
The report projects APEC's inflation to taper down to 3.9 percent this year, declining further to 2.7 percent in 2024.
"The sustained and broad-based increase in prices promoted an aggressive and synchronized response from monetary authorities across the world," a senior researcher with the Policy Support Unit Rhea Hernando said.
"In APEC, we are seeing majority of the central banks increase interest rates to dampen price pressures," she said.
Rising uncertainties also weakened merchandise trade in APEC during the first nine months of 2022.
Growth in the volume of APEC's merchandise exports was flat, while merchandise imports grew by 4.3 percent as compared to the same period last year, when these expanded by 14.4 percent and 16.1 percent, respectively.
Meanwhile, the value of merchandise trade exports and imports grew by 14.5 percent, showing greater resilience due to the relatively high energy prices in 2022, driven in turn by supply shocks.
"We expect a modest growth of trade volumes in APEC this year following the slowdown in global demand," Kuriyama said.
In contrast, commercial services trade performed better in 2022, with exports and imports growing by 13 percent and 15.6 percent respectively in the second quarter of last year.
The strong expansion in trade in this sector was driven by travel services, which increased by 60 percent as economies progressively reopened borders and relaxed coronavirus disease 2019 (Covid-19) restrictions.
Officials from the 21 APEC member economies are convening in Palm Springs, California, to kick off the first technical meeting cluster of APEC 2023.
The United States is hosting APEC this year and will drive the forum's agenda under the theme "Creating a Resilient and Sustainable Future for All."
"Taking advantage of the upcoming meetings in Palm Springs, member economies should prioritize efforts to coordinate clear and consistent policies," Kuriyama said.
He said coordinated macroeconomic policies play an important role in addressing the rising cost of living.
"In addition, keeping trade free, fair, and open and boosting trade facilitation could reduce the pressure on food and energy prices considerably, mitigating the adverse impact on food security and poverty level," he added.
APEC is a forum that promotes economic cooperation and integration among countries in the Asia-Pacific region.
It was established in 1989 and has 21 member economies: Australia, Brunei Darussalam, Canada, Chile, China, Hong Kong-China, Indonesia, Japan, Republic of Korea, Malaysia, Mexico, New Zealand, Papua New Guinea, Peru, the Philippines, Russia, Singapore, Taiwan, Thailand, the United States, and Vietnam. (Antara)