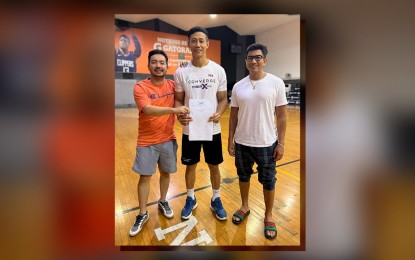 MANILA – In a surprising turn of events on Thursday, Converge has decided to activate Danny Ildefonso as a player.
In an announcement made by no less than head coach Aldin Ayo in his social media accounts, the FiberXers signed his assistant coach as an active player for the rest of the PBA Governors' Cup.
Ildefonso has been listed as the team's 15th member, occupying a vacant spot in the active roster.
Ayo said Ildefonso is eligible to play for Converge on Friday against Meralco.
"Nakalineup na siya (He is already part of the lineup)," Ayo said.
If he indeed plays on Friday, the 46-year-old center will be "unretiring" after eight years.
Interestingly enough, he last played for the Bolts in 2015 before initially calling it a career at age 38.
Ayo, though, believes that Ildefonso, the No. 1 pick of the 1998 draft, can still be as effective as today's big men.
"Kaya pa niya sumabay sa mga mas bata (He can still compete against younger players)," Ayo added.
Ildefonso starred for San Miguel since he turned pro before retiring with Meralco. (PNA)

UNRETIRED. Danny Ildefonso (center) shows his contract in this undated photo after the Converge decided to activate him as a player for the rest of the PBA Governor's Cup. Converge head coach Ayo Aldin (right) said his 46-year-old assistant coach can still be as effective as today's big men. (Photo courtesy of coach Ayo Aldin)