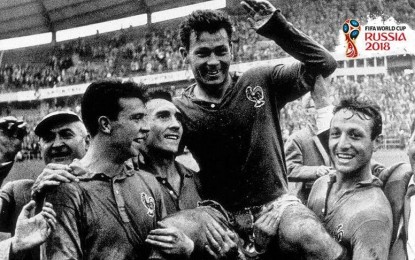 ANKARA – French football legend Just Fontaine has died at age 89, Fontaine's former club Stade de Reims (SDR) announced on Wednesday.
Reims announced the passing on Twitter, saying: "To his family, his loved ones, the SDR sends its most sincere condolences."
The French legend was famous for being the top scorer in a single edition of the FIFA World Cup with 13 goals in six matches in 1958 Sweden.
During his playing career, the famed striker played for Moroccan team USM Casablanca, along with French clubs Nice and Reims, winning four French Ligue 1 titles.
Though his career was cut short by injuries, forcing him to retire at age 28, Fontaine netted 30 goals in 21 games for France.
Fontaine also tried his hand at coaching, as he helmed the France and Morocco national teams, along with Luchon, Paris Saint-Germain, and Toulouse. (Anadolu)