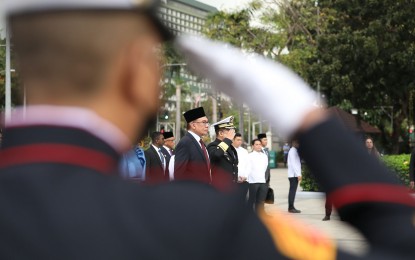 MANIILA – The Association of Southeast Asian Nations (ASEAN) must establish a "common position" while engaging with Beijing to ease tensions in the South China Sea, Malaysian Prime Minister Dato' Seri Anwar Ibrahim said during an official visit to Manila.
In an ANC interview aired Friday, Anwar said the bloc must be united in engaging with China to clearly express its concerns over its growing activities in the contested waters.
The recent ones include the swarming of Chinese vessels and lasing incident between the Chinese and Philippine Coast Guards near the Ayungin Shoal.
The Malaysian leader, however, argued that taking "too combative a view" would not resolve the maritime dispute that has remained unresolved for years.
"I think let us start with the first option to get the consensus within ASEAN and take a position with the Chinese to suggest that these are our concerns," he said.
"[T]he best route is to get into amicable resolution to this. I don't believe that we need to be too combative with our neighbors because even among ASEAN, we have never been combative, although there were some issues affecting the border territory, but we have already maintained that sort of a reasoned and calm attitude except for Myanmar, of course," he added.
The Philippines, Vietnam, Malaysia, Brunei, Taiwan, and China have overlapping claims over the vast South China Sea.
Beijing, under its so-called nine-dash line, claims almost 80 percent of the vital trade route, which includes parts of the Philippines' 200-nautical-mile exclusive economic zone.
Last month, the Department of Foreign Affairs confirmed that the Philippines had been experiencing "daily incidents" of harassment in the West Philippine Sea.
Meanwhile, Miyake Kunihiko, research director of Japan-based think tank The Canon Institute for Global Studies, backed a potential trilateral defense mechanism among the Philippines, the United States, and Japan.
"We are not in Europe, we can't have NATO (North Atlantic Treaty Organization). What we need is a multi-layer security, maritime policing mechanism supplementary to each other," he said in an interview on the sidelines of a Stratbase ADR Institute forum on Friday.
He also supported the idea of joint patrols between the three and Australia in the South China Sea to maintain the "status quo" in the region and "prevent it from being changed by force."
"[I]f we just appease the other side, they might misunderstand our intention. Our intention is not to appease and let them do what they want to do. Our intention is [to] encourage them not to do it," he said.
"We need to show our capability to do this while we continue to talk to them in a dialogue with like-minded countries. The most important thing that we have to avoid is miscalculation," he added. (PNA)