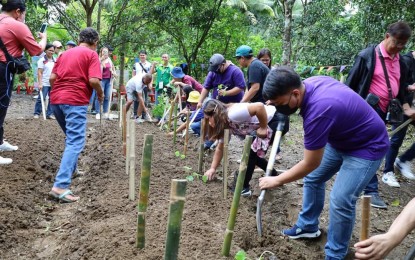 ILOILO CITY – Four local government units in Western Visayas have been identified as pilot sites for the Halina't Magtanim ng Prutas at Gulay Kadiwa Ay Yaman Plants for Bountiful Barangays Movement (HAPAG KAY PBBM) sustainable urban farming program.
The launch was held in Barangay Balabag in Iloilo's Pavia town on Wednesday in partnership with the Department of the Interior and Local Government (DILG), according to Jonifer Frades, regional coordinator of the High-Value Crops Development Program and National Urban and Peri-Urban Agriculture Program.
"The purpose of that is for every barangay to have a community garden. So we will revive the Green Revolution back in the 1980s where every barangay should have a Gulayan sa Barangay (vegetable farming in villages)," he said in an interview Friday.
Under Memorandum Circular (MC) 2023-001 of the DILG, a community garden will be established in the available site to be determined by the village.
Villages with suitable spaces are likewise encouraged to plant bamboo.
Container and vertical gardening, hydroponics, aquaponics, and aeroponics are advised for communities with no vacant areas.
Apart from Pavia, the program will also be implemented in the municipalities of Oton and Leganes, and Iloilo City.
Barangay Balabag has already identified its ecological park for the gardening program.
It received two units of 200-liter capacity drums, 10 pieces of shovels, 10 pieces rakes, 10 pieces of hoes, 10 pieces of sprinklers, and assorted packs of vegetable seeds as starter kit.
Frades said that they intend to implement the program in Capiz and Negros Occidental next year.
"The DILG will be there to evaluate and validate to make sure that it is sustained. It is also their strategy to diversify the food source and ensure food security," he added. (PNA)