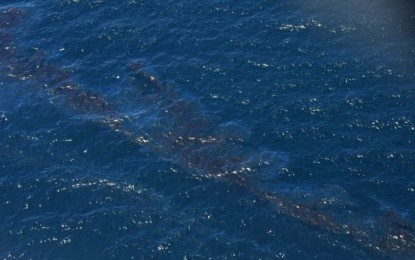 MANILA – The National Disaster Risk Reduction and Management Council (NDRRMC) has ordered the creation of a task force that will monitor the impact of the oil spill caused by the sinking of M/T Princess Empress off the coast of Naujan town in Oriental Mindoro province last Feb. 28.
The task force will have as team lead the Office of Civil Defense (OCD) in Mimaropa (Marinduque, Occidental Mindoro, Oriental Mindoro, Palawan, and Romblon) .
"In a memorandum issued 3 March 2023, NDRRMC Executive Director and Civil Defense Administrator, Undersecretary Ariel Nepomuceno organized an inter-agency task force to monitor developments and implement measures that would contain the spread of the oil spill, recover the spilled fuel, as well as conduct emergency response activities to the areas that may be affected by the incident," the agency said in a statement Friday.
The task force member agencies include the Mimaropa offices of the Department of Environment and Natural Resources (DENR), Department of the Interior and Local Government (DILG), Department of Social Welfare and Development (DSWD), Department of Health (DOH), as well as the Bureau of Fire Protection (BFP), Philippine National Police (PNP), Philippine Coast Guard (PCG)-Southern Tagalog District, Armed Forces of the Philippines (AFP) Southern Luzon Command, and the Mimaropa local government units.
Currently, shoreline assessments are being done by teams from the Philippine Coast Guard (PCG) as well as the deployment of equipment and assets to contain and recover the spilled oil.
The DENR-Environmental Management Bureau (EMB) is also working with Coast Guard Substation Oriental Mindoro on joint water sampling operation.
Combined teams of uniformed personnel and local government units are also conducting coastal cleanup operations.
"An emergency meeting regarding the incident was earlier held via video teleconferencing, last 3 March 2023, between OCD officials, the AFP, and PCG Southern Tagalog to discuss possible response interventions to control and mitigate the hazardous effects of the oil spill," OCD added.
Latest reports have shown that the oil spill had reached the coastal areas of the municipalities of Pola, Pinamalayan, Naujan, and Bongabong in Oriental Mindoro.
The M/T Princess Empress was loaded with 800,000 liters of industrial fuel oil prior the incident. Its crew of 20 men were successfully rescued. (PNA)