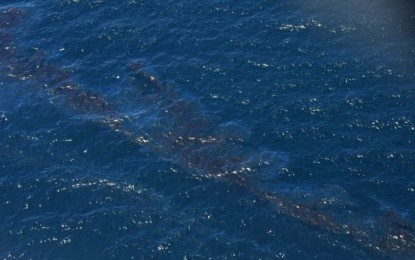 MANILA -- The House of Representatives is prepared to provide a supplemental budget for the immediate action and recovery efforts in addressing the threat of the oil spill in Naujan town, Oriental Mindoro province, a House leader said on Friday.
In a statement, House Ways and Means Committee chair Joey Salceda noted that the incident could have devastating consequences to fish supply and tourism, and will also affect hundreds of thousands of families "if it gets out of hand."
"We are prepared to propose and enact a supplemental budget if it comes to that. If the President requests it, we will grant it," Salceda said. "I don't think it will face significant resistance in either chamber."
He said President Ferdinand R. Marcos Jr. could assess the resources within his disposal, and "ask Congress for more if he doesn't have enough in the budget to deal with an event like this."
"In this particular instance, a supplemental budget would be perfectly understandable, given that no one can really anticipate an oil spill," he said.
He said among the sectors that will most likely be affected are the tourism sectors of Batangas, Marinduque and Mindoro provinces.
He also expressed deep concern for the impact to biodiversity and fisheries of the oil spill.
"This is a crisis waiting to unfold if we don't get to contain this early. That area is very close to the Verde Island Passage, which has been declared as the center of the Center of Marine Shorefish Biodiversity. It is extremely critical for national and global fisheries," he said.
He noted that the area is even a candidate for United Nations Educational, Scientific and Cultural Organization (UNESCO) World Heritage Site.
Salceda said a potential aid package might involve assistance to affected fisherfolk, more funds for cleanup, restoration of marine biodiversity, and rehabilitation of affected tourism sites.
"We'll see what PBBM asks for, if he does. But for now, better treat it as a potential national emergency. If it proves to be not as bad as we fear, that's good news," he said.
The National Disaster Risk Reduction and Management Council (NDRRMC) has ordered the creation of a task force that will monitor the impact of the oil spill caused by the sinking of M/T Princess Empress off the coast of Naujan town last Feb. 28.
Latest reports have shown that the oil spill had reached the coastal areas of the municipalities of Pola, Pinamalayan, Naujan, and Bongabong in Oriental Mindoro.
The M/T Princess Empress was loaded with 800,000 liters of industrial fuel oil prior the incident. Its crew of 20 men were successfully rescued. (PNA)