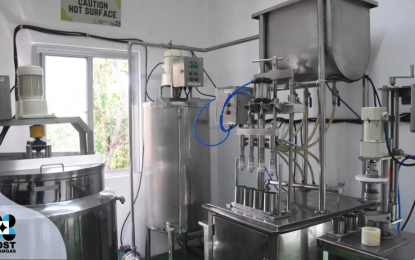 TANAUAN CITY, Batangas – A new mango and calamansi processing facility has started operating in this city and targets to earn PHP1.5 million by 2024, the Department of Agriculture (DA) in Region 4A (Calabarzon) said Friday.
Milo Delos Reyes, project director of DA-4A, said the PHP7-million Magsasakang Tanaueño Agricultural Marketing Cooperative Mango and Calamansi-based (MTAMC) Products Processing Facility started its operation on Feb. 23, producing mango and calamansi-based ready-to-drink juice drinks, concentrates and purees.
The facility's processing equipment such as a double-jacketed kettle, semi-automatic filling and capping machine, and stainless steel tables were funded by the Department of Science and Technology (DOST)-Calabarzon under the Grants-in-Aid (GIA) program.
The DOST-Industrial Technology Development Institute (ITDI), on the other hand, provided product formulation and process technologies while the Department of Agriculture-Philippine Rural Development Project (DA-PRDP) and the local government unit of Tanauan funded the construction of the processing facility.
The 90-square meter facility houses various machinery such as a pulper finisher, steam jacketed kettle, refractometer, autoclave sterilizer, storage freezer and cooler.
Myrelle Joy Bejasa, PRDP Region 4A information officer, said in a phone interview on Friday the new processing facility is part of the Tanauan City Mango Trading and Processing Enterprise project of PRDP and MTAMC.
"As an agricultural cooperative, MTAMC has been involved in mango and calamansi production since its founding in 2016, and they have ventured into post-harvest processing to add value to their produce and to utilize their excess supply during peak season," she said.
Meanwhile, MTAMC president Maricar Maranan said this project is also part of the agricultural sustainability program of the local government unit (LGU) in collaboration with the Office of the City Agriculturist under Sherwin Rimas.
Around 80 Tanaueño farmers/members of MTAMC are currently being helped by the LGU to plant mango and lime trees. (PNA)