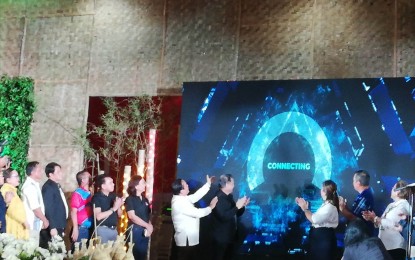 SAN JOSE DE BUENAVISTA, Antique – A total of 150 barangays in Antique will be among the first beneficiaries of the Broadband ng Masa of the Department of Information and Communications Technology (DICT) that was launched in this province on Friday.
DICT Secretary Ivan John Uy, in his message during the launching, said the University of Antique (UA) main campus in Sibalom town that hosted the launching and its four campuses in the province will also be among the program recipients.
"The program will bring progress and development in Antique and even in the entire Philippines that have connectivity issue," Uy said.
He said the program is launched as a fruition of the vision of Senate Pro-Tempore Loren Legarda who is being considered as the "Mother of DICT" for being the principal author of Republic Act 10844 that created the department.
Legarda, in her message, said the pandemic has emphasized the digital gap in the country as those in the city shifted to virtual learning, work-from-home setup, online banking and telemedicine, while those in the countryside like Antique could barely access information from the internet due to the lack of broadband connection.
"Access to the internet not only connects people, but also empowers citizens," she said.
Legarda, in a later interview, said she will work out for the other remaining barangays in the province to also have free WiFi next year.
"I have also promised to help the other provinces in the different parts of the country be able to avail of the program," she said.
Antique Governor Rhodora Cadiao, in her message, requested Legarda to include in the program the eight district hospitals in the province for their telemedicine.
Cadiao said the program will greatly benefit the Antiqueños.
Antique Representative Antonio Agapito Legarda said the program is really needed by the residents, particularly the students during their classes, since connectivity is a real problem in the province.
UA president Pablo Crespo also expressed gratitude for including their university as a beneficiary since they are now on blended learning.
After the launching, the DICT will conduct onsite inspections to identify villages in the province that needs internet connectivity within six months. (PNA)