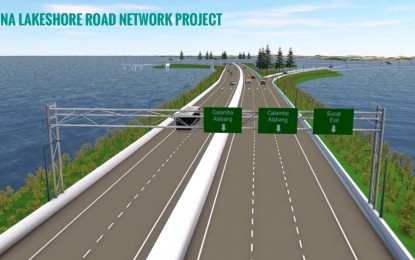 MANILA – The government is courting financial institutions to help finance Phase 1 of the Laguna Lakeshore Road Network (LLRN) project.
The Department of Public Works and Highways (DPWH) recently met anew with officials of the Asian Development Bank (ADB) to plan and assess for the realization of the flagship infrastructure undertaking.
DPWH Secretary Manuel Bonoan said the detailed engineering design of the multi-billion project is nearing completion.
"With 85.1 percent of the detailed engineering design (DED) for LLRN already complete, DPWH has started negotiations to gather support from possible financing institutions crucial in the realization of this flagship infrastructure project," he said in a news release over the weekend.
The project was discussed anew during the three-day reconnaissance mission workshop held from Feb. 27 to March 1 where the strategic plans and financial assessment were presented for the 37.4-kilometer (km) road network and viaduct south of Metro Manila.
The Phase 1 of the project amounting to PHP174.3 billion involves the construction of a 21.5-km viaduct and 15.9-km embankment along the west shoreline of Laguna Lake, starting from Barangay Lower Bicutan in Taguig to Calamba City in Laguna.
It will also cover construction of eight interchanges proposed to connect municipal boundaries to the nearest public road along Lower Bicutan, Sucat, Alabang, Tunasan, San Pedro/Biñan, Santa Rosa, Cabuyao, and Calamba.
During the meeting, the groundworks in preparation to the fact-finding mission, an important milestone in the processing and approval of the proposed financing for LLRN was also laid out.
The discussions also focused on funding schemes and loan application process, construction method, preparation of resettlement plan, gender action plan and environmental impact assessment towards support economic development of the areas in the vicinity of Laguna de Bay.
On the other hand, Senior Undersecretary and LLRN team head Emil Sadain said the construction of LLRN Project Phase 1 will provide a safer, faster alternative, and reliable transportation link.
He added that the proposed third highway going south will ease the traffic congestion, especially during rush hour at the Manila South Road and South Luzon Expressway, to support economic development and growth potential of the provinces of Laguna, Batangas, Quezon and Rizal in the Southern Tagalog Region.
Meanwhile, the DPWH noted that the feasibility study for LLRN Phase 2 in the northern to southern coastline via an eastern route is almost complete and the detailed engineering design will be included in the civil works loan for LLRN Phase 1.
It has already submitted the proposed LLRN Project to the National Economic and Development Authority for project approval and endorsement to Department of Finance for loan application.
The DPWH is also proposing a Multi-Tranche Financing Facility for LLRN Phase 1 civil works in which the budget program for the whole project will be made in three tranches.
Present during the gathering were ADB country director Kelly Bird, Asian Infrastructure Investment Bank Transport Sector leader Andres Pizarro, DPWH project director Sharif Madsmo Hasim of the Unified Project Management Office Roads Management Cluster 2 (Multilateral) and Project Manager Zenaida Mauhay. (PNA)