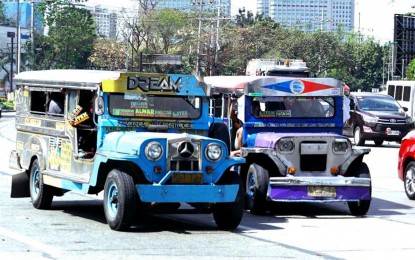 LUCENA CITY – A transport group official here on Sunday said they will not join a transport strike against the jeepney modernization program beginning Monday.
Freddie Bravo, interim president of the Lucena City Transport Cooperative (LCTC), cited their concern for the commuting public as the main reason they opted not to participate.
Bravo said their group has already submitted a Letter of Intent to Elmer Francisco of Francisco Motors which manufactures the electric jeepney that will replace the iconic traditional ones.
"The jeepney modernization scheme is already mandated in 2017 and we have accepted that. That's the reason why we enlisted our group as a cooperative in 2018 to cope up with the modernization plan," Bravo said in an interview on Sunday.
He said their cooperative has already ordered 712 units of the electric type jeep, expecting delivery of the first 15 units in July this year.
The e-jeep will still look like the traditional jeepney with some modifications including air conditioner, GPS (global positioning system) and Wi-Fi connection, Bravo said.
The 23-seater model will use electricity and not diesel fuel, making it more environment friendly, he added.
He said each unit of e-jeepney costs about PHP1.8 to PHP2 million.
Bravo said once they start using modern jeepneys, drivers shall receive fixed income and not through the "boundary system."
Drivers will also be provided with benefits, including PhilHealth, Pag-IBIG, Social Security System and even 13th-month pay.
A "beep card" system will be used by commuters, enabling the cooperative to monitor the monthly income of each unit.
Bravo said such scheme will hopefully eradicate dissatisfaction among their members and equip them towards modernization trend.
Synchronous classes
Meanwhile, Cavite Governor Juanito Remulla signed Executive Order No. 8 on Saturday, directing the conduct of asynchronous classes in both public and private schools in all levels in the province from March 6 to 12 due to the transportation strike.
"This is a precautionary measure as we foresee the possible effect to the commuters, if the nationwide transport strike push through tomorrow [Monday]," Remulla said in an interview on Sunday.
Remulla said the nationwide transport strike will paralyze public transportation in the province of Cavite, especially commuters, composed mainly of students and school personnel.
GMA (General Mariano Alvarez) Mayor Maricel Torres also signed Executive Order No. 13, canceling classes both in private and public schools in all levels on March 6 in anticipation of the public transport strike. (With reports from Rossel Calderon/PNA)