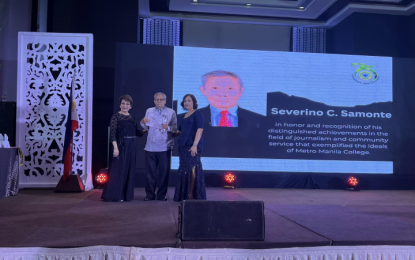 MANILA – Retired Philippine News Agency (PNA) executive editor Severino C. "Vering" Samonte has been named among the 18 recipients of the Distinguished Alumni Award of Novaliches-based Metro Manila College (MMC).
The award is among the highlights of the celebration of the 75th anniversary of the MMC, formerly known as the Novaliches Academy (NA), the pioneer secondary and tertiary educational institution established in 1947 in the former town of Novaliches, now divided between Quezon City and Caloocan City.
The awards were presented at the Manila Hotel's Fiesta Pavilion on Saturday night. It coincided with the MMC-NA's employees' grand ball and presentation of the alumni awards.
In an interview with PNA, Samonte expressed gratitude to God and the MMC's Board of Directors for his inclusion in the list of Distinguished Alumni awardees.
He received a certificate and a trophy "in honor and recognition of his distinguished achievements in the field of journalism and community service that exemplified the ideals of Metro Manila College."
"I hope I am worthy of the honor they have bestowed on me in recognition of what I have done in the field of journalism to promote the improvement of the Novaliches community that exemplified the ideals of Metro Manila College," he said.
"I am also thanking all my former colleagues at the Philippine News Agency and the Presidential News Desk (PND) for their cooperation and full support so that I could do my duties with utmost dedication during the time we were working together," he added.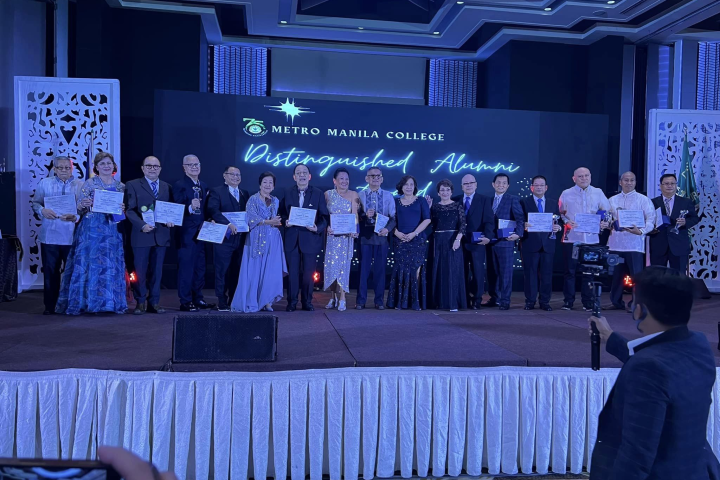 Aside from Samonte, other recipients of the award were National Historical Commission of the Philippines chairperson Dr. Emmanuel Franco Calairo, Capt. Arthur O. Alviar, Aurora O. Alviar, Dr. Ernesto S. Domingo, Hon. Jose Angelo M. Dominguez, Ismael F. Esber, Virginia E. Espadero, and Perla R. Gerodias.
Other recipients were Sr. Supt. Prudencion P. Legaspi (ret). Dr. Celso S. Miranda, Brig. Gen. Ronnie S. Montejo, Dr. Lyndon F. Quinitio, Gen. Baltazar V. Rivera, Fernando B. Reyes, Francino R. Salud, Reynaldo H. Umali, and Mary Grace D. Yousef.
Samonte began his journalistic career by contributing to the Liwayway and Bulaklak magazines in the 1960s.
He was the night editor of the now-defunct Philippine News Service when Martial Law was declared in September 1972.
When the PNA was organized in March 1973, he was named national news editor because of his news wire service experience.
He retired as executive news editor in 2003.
He also served as executive editor of the Malacañang-based PND from 1993 to 1996 and from 2005 to 2008.
Meanwhile, former PNA reporter Sherrie Ann C. Torres, who now works for ABS-CBN, was among the 24 individuals who received the Outstanding Alumni Award.
Aside from covering the political beat, Torres also conducts journalism workshops in various government offices, corporations, public and private schools, universities and colleges. (PNA)