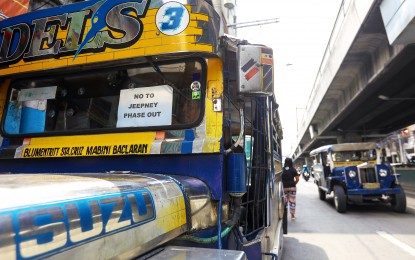 MANILA – More transport groups in Metro Manila and other parts of the country have decided not to join the weeklong nationwide strike starting Monday.
Based on a news release from the Presidential Communications Office (PCO), at least 11 major jeepney and UV (utility vehicle) groups in Metro Manila are strongly opposed to the planned transport group strike led by Manibela, an alliance of UV drivers and a party-list group.
"Groups not joining the strike include the National Federation of Transport Cooperatives (NFTC), Alliance of Transport Operators' & Drivers' Association of the Philippines (ALTODAP), Liga ng Transportasyon at Operators sa Pilipinas (LTOP), Alliance of Concerned Transport Organization (ACTO), Pasang Masda (PM) Jeepney, Federation of Jeepney Operators and Drivers Association of the Philippines (FEJODAP), Stop and Go Coalition, Senate Employees Transport Service Cooperative (SETSCO), UV Express National Alliance of the Philippines (UV Express) and ACTO NA CORP," the PCO said.
Earlier, Valenzuela City Mayor Wes Gatchalian said seven transport groups have dissociated themselves from the strike organizers and vowed to ply their routes.
These are the Jeepney Operators and Drivers Association (JODA), NOVADECI Transport Cooperative, Novaliches Malinta Jeepney Transport Cooperative (NMJTC), Malabon Jeepney Transport Cooperative (MAJETSCO), Blumentritt Transport Service Cooperative (BTSC), Metro Valenzuela Transport Cooperative (MVTC), Valenzuela Bignay Meycauayan Transport Cooperative and the KARTUJODA Transport Cooperative.
Some 50 transport groups in Northern Mindanao are not joining the transport group strike either, according to the Northern Mindanao Federation of Transport Service Cooperative (NOMFEDTRASCO), comprised of almost 50 transport cooperatives from the five provinces in the region.
NOMFEDTRASCO officials said participating in the strike is not nearly as crucial as the food that they need to bring to the table.
The Federation of Land Transportation of Zamboanga (Feltranz), one of the largest unified jeepney organizations in Zamboanga City, also refused to join transport strikes, citing the need to make enough money in a week to cover their expenses.
The Iloilo City Alliance of Operators and Drivers Transport Cooperative (ICAODTC) likewise opposed the call for a seven-day nationwide strike, stressing that enough time was provided for the groups and operators to consolidate their units and create a cooperative.
The Land Transportation Franchising and Regulatory Board (LTFRB) has repeatedly assured the riding public that there will be no fare increase for passengers who will be affected by the weeklong strike.
It has also prepositioned rescue buses on routes of public utility jeepneys and UV Express with an inadequate supply of public vehicles.
The LTFRB ensured fares for ordinary rescue buses are the same as those paid for traditional jeeps.
Airconditioned rescue buses' fares will also cost the same as the fare charged by modern jeepneys.
There will also be prepositioned bus units that will offer free rides. (PNA)