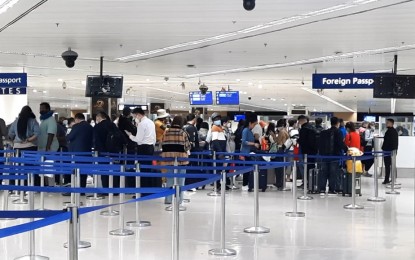 MANILA – Bureau of Immigration (BI) airport personnel are prohibited from going on leave for three weeks to ensure that adequate officers are available to serve the traveling public before, during and after the Holy Week break.
Commissioner Norman Tansingco said Monday the ban on filing of leaves which starts on March 24 and ends on April 15 applies to all employees assigned at the Ninoy Aquino International Airport (NAIA) and all other international airports nationwide.
He added that during this period, applications for vacation leave and authority to travel abroad by any BI employee assigned at the ports will neither be entertained nor approved.
"We are constrained to implement this leave ban to make sure that our service to the traveling public are not interrupted or compromised during the Lenten break when there will surely be a sharp upsurge in the number of passengers who will enter and exit the country," the BI chief said in a statement.
The order was in preparation for the influx of international passengers expected not only at the NAIA but also in other major ports such as Mactan, Clark and Kalibo.
"We have to see to it that our immigration booths at the airports are fully manned in order to cope with the long queues of passengers who will be arriving from or leaving for abroad to spend time with their families and relatives," Tansingco added.
Statistics show that since the Philippines reopened its borders to foreigners in March last year, the combined volume of international passengers who arrive and depart from the country is now averaging more than 30,000 daily as against to only about 6,000 to 9,000 daily in March 2022.
The Philippines, just like other countries, experienced a serious drop in international travel volume when the pandemic struck in March 2020.
This year, the Holy Week falls from April 2 to 9. (PNA)