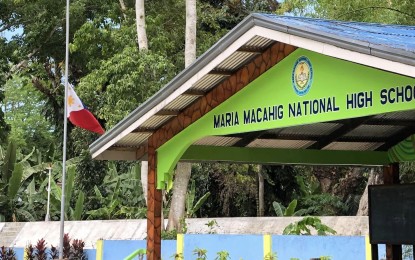 MANILA – The government should distribute the PHP5.22-billion intelligence fund among several agencies to bring down gun-for-hire syndicates.
The brutal killing of Negros Oriental Governor Roel Degamo over the weekend is among the many signs that killing-for-hire has become a cottage industry in the Philippines, according to Senator Francis Escudero on Monday.
He said an all-out war against the syndicates using the full might of intelligence funds can deter similar crimes.
"Only the identification and dismantling of groups of hired killers can assassinations be stopped," Escudero said in a news release. "Kaya kahit mahuli pa ang pumatay kay Governor Degamo, hindi garantiya 'yan na walang kasunod kung merong mga kriminal na ginawang negosyo ang pagkitil ng buhay (The arrest of the killers of Governor Degamo does not guarantee that killings will stop as there are criminals engaged in the killing business)."
While the Degamo assassination and those of other elected officials before him have attracted media attention, Escudero pointed out that "there are many killings of ordinary people who remain just entries in police blotters."
Escudero said murders done with impunity, which remains unsolved, have given rise "to copycat killings."
He said a database must be created to identify the perpetrators and if they have pending warrants of arrest or armed and dangerous, they can be listed in the order of battle.
"People get emboldened if they see murders go unsolved. Kapag hindi nahuli (If they are not arrested), it incentivizes future acts. Maraming nagsasabi na bakit pa ipapa-pulis o magsasampa ng kaso na gagastos pa na meron naman shortcut? (Many are hesitant to report to police, file cases and spend money because there is a shortcut anyway)," Escudero said.
Probe all killings
Meanwhile, Senator Risa Hontiveros filed a resolution calling for an investigation on the series of political killings in recent weeks.
Senate Resolution No. 518 stated that it was not the first time in the province, citing a weeklong killing spree in Negros Oriental in 2019.
"The violence happened in broad daylight. Wala na silang hiya o takot (They have no shame nor fear). Even more disturbing, uniformed personnel are complicit or actively involved. This culture of impunity is a grave danger to the public," she said in a statement.
Hontiveros also mentioned the killing of Cagayan Vice Mayor Rommel Alameda, former Quezon vice mayor Danilo Amat, former Lobo, Batangas vice mayor Romeo Sulit, and former Lamitan City, Basilan mayor Rosita Furigay; and assassination attempts on Lanao del Sur Governor Mamintal Adiong Jr. and Mayor Ohto Caumbo Montawal of Datu Montawal, Maguindanao del Sur.
"A Senate investigation should be conducted not only to exact justice for the victims, but also to identify the underlying drivers of the killings, particularly the failure and inaction of our institutions, including our law enforcement agencies, to address political and election-related violence," the resolution states.
Hontiveros asked the Commission on Elections (Comelec) to review its processes on settling election-related disputes and violence.
"Comelec's processes have become increasingly ineffective and inefficient. The inordinate delay of Comelec en banc rulings may have aggravated vindictiveness," she said. (Leonel Abasola/PNA)