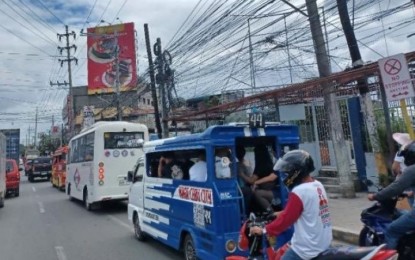 CEBU CITY – The national transport strike did not make a massive impact in Cebu as many public utility drivers continued to pick up passengers on their usual routes.
Eduardo Montealto Jr., director of the Land Transportation Franchising and Regulatory Board-Region 7, said that while there was no transport paralysis in Cebu, his office will continue to monitor the extent of the weeklong transport strike.
The transport sector here pledged last week not to disrupt public transport despite the call for a nationwide strike to protest the implementation of the Public Utility Vehicles Modernization Program (PUVMP).
However, at least 15 members of the Pagkakaisa ng mga Samahan ng Tsuper at Operator Nationwide (PISTON)-Cebu headed by Greg Perez held a two-hour protest action in front of the LTFRB regional field office in Cebu City on Monday morning to express their concerns about the phaseout of the traditional jeepney by the end of the year.
"They carried placards but they came here without disrupting our office and the flow of traffic because they stayed outside the gate. Salamat nga peaceful rai lang rally (I thanked them for having a peaceful rally), Montealto told the Philippine News Agency in an interview.
Montealto said his office would hear the sector's concerns and vowed to find solutions to the issues raised by traditional jeepney drivers and operators against the modernization program.
He, however, encouraged the remaining operators of traditional jeepneys who have not joined the consolidation process to become a transport coop or corporation under the PUVMP to listen to a seminar with the Cooperative Development Authority or Office of the Transport Cooperative (OTC) of the Department of Transportation.
"Some of them still don't understand what PUV modernization is all about. There are many of them who refuse to learn that no matter how you explain it, they won't understand that our country needs the modernization of the public transport sector," he said in Cebuano.
Among the issues that Piston-Cebu raised during their rally at the LTFRB-7 was the call not to phase out traditional jeepneys, and that they need support for rehabilitation, financial assistance and the reversion of validity of transport franchises to five years.
The group also went to the office Cebu City Councilor Donaldo Hontiveros at the City Hall to vent their concerns against the PUV modernization.
Meanwhile, the Cebu City government deployed a Quick Response Team headed by Disaster Risk Reduction and Management Officer Harold Alcontin to the city's major thoroughfares.
The city government also prepared several buses to ferry passengers should the nationwide transport strike cripple public transport. (PNA)