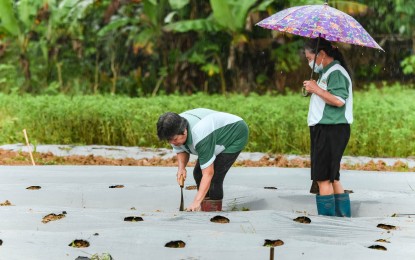 TACLOBAN CITY – The Department of the Interior and Local Government (DILG) urged villages in Eastern Visayas region to participate in the nationwide food sufficiency program to curb high food prices.
DILG Eastern Visayas assistant regional director Darwin Bibar said they are committed to this program despite facing the biggest challenge which is to ensure the implementation of the planting initiatives down to communities in the region.
"We really commit to this program. We must work together from the regional down to the village level to ensure sufficient quality food sources in the locality," Bibar said in a statement on Monday.
The project is dubbed as "Halina't Magtanim ng Prutas at Gulay" (Hapag) sa Barangay Project, Kadiwa ay Yaman (Kay), and Plants for Bountiful Barangays Movement (PBBM). Officials from the DILG and Department of Agriculture joined the nationwide launch in this city on March 1.
Hapag Kay PBBM promotes community involvement towards urban agriculture. It underscores the importance of the collaboration of different government agencies and engaging the public through urban agriculture in attaining food security.
The showcase village for Region 8 is GMA Village, in the northern part of the city within a housing site built for survivors of Typhoon Yolanda (Haiyan) in 2013.
The DA regional office here said the Hapag Kay PBBM follows the thrust of addressing the food problem at the grassroots level which will eventually lead to addressing the nation's problem of hunger and poverty.
"When households and communities are encouraged to produce fresh, healthy, and affordable basic goods, there is increased access to food among households, particularly the most marginalized," the DA field office here said in a Facebook post.
Hapag is a project under the DILG that aims to address the problem of hunger and food insecurity in the country through the participation of barangays, cognizant of their role as essential partners of the national government in addressing hunger at the grassroots level.
It seeks to strengthen the capacities of barangay units toward sustainable agriculture and food-production initiatives through the establishment of barangay community gardens.
On the other hand, the Kadiwa center is an initiative that greatly contributed to the availability of quality yet affordable foods in the countryside during the pandemic.
PBBM, dubbed as Green Revolution 2.0, was patterned from a project of the DA under then President Marcos, Sr. which aims to increase local production of fruits and vegetables by turning urban and rural areas into patches of green, edible landscapes. (PNA)