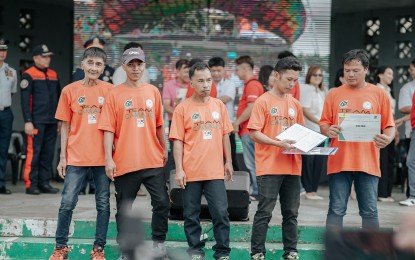 LEGAZPI CITY – Camalig town Mayor Carlos Irwin Baldo Jr., incident commander of the Cessna 340 operations, on Monday recognized five local residents who volunteered to locate the ill-fated plane that crashed on Mt. Mayon on Feb. 18 and retrieve the bodies of the four passengers.
During the flag-raising ceremony at Nuyda Park, Baldo presented the five residents of Barangay Anoling who were the first to physically reach the crash site on Feb. 22 and confirm the deaths of the four passengers.
As a further expression of gratitude, Baldo vowed to provide employment to the five volunteers under the local government unit.
"As official responders attempted to reach the crash site on the 5th day of Cessna operations, Jose Obal, Orly Nantes, Marjames Mariñas, Roger Villanueva, and Gerry Nodalo reportedly reached the actual wreckage of the Cessna 340A aircraft after almost five hours of trekking over the slopes of Mayon," Baldo said.
He said without any food and water supply and only wearing slippers and carrying steel rods or "kabilya" to aid in keeping their balance while walking up the steep and rugged terrains of Mt. Mayon, the "Magnificent 5" started their climb around 6:30 a.m. and reached the crash site around 11:30 a.m.
After they had seen the site as well as the bodies of the four onboard the aircraft, they went down and directly reported and turned over photos of the situation to the mayor.
Tim Florece, information officer of the Camalig local government unit, said Nodalo again immediately went up to accompany the Search and Rescue (SAR) team to Mt. Mayon before noon on Feb. 22.
Meanwhile, through a resolution approved on Feb. 27 and presented on Monday, the Sangguniang Bayan (SB) of Camalig gave recognition to the other individuals and agencies following the success of the 13-day intensive Cessna 340A search, rescue and retrieval operations.
"Hindi magiging successful ang operation na ito kung walang cooperation ng bawat isa (Without the cooperation of everyone, this operation will not be successful)," Baldo said.
He said their efforts underline the value of the unwavering tenacity, commitment, and devotion of everyone who pushed through to bring the operation to a close.
"The selfless dedication of the responders including Albay Climbing Community (ACC), Mayon Mountaineers, Federation of Bicol Mountaineers Inc., Mountaineering Federation of the Philippines, Inc., and the Wilderness Search and Rescue (WISAR), local guides, Naval Special Operations Group (NAVSOG), the Bureau of Fire Protection (BFP), Philippine National Police (PNP), Philippine Army, Energy Development Corporation (EDC), Armed Forces of the Philippines (AFP), the Philippine Air Force (PAF), Philippine Navy, and other volunteers who placed their lives at risk while navigating the challenges brought on by the tough conditions of the operation, thanking also the private and public partner agencies, as well as volunteers who put forth efforts in the accomplishment of this mission," Baldo added. (PNA)