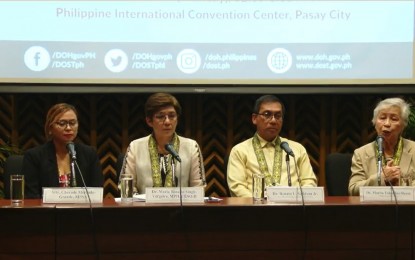 MANILA – The Department of Health (DOH) on Monday transferred the operations of the Health Technology Assessment (HTA) Philippines to the Department of Science and Technology (DOST).
During the ceremonial turnover at the Philippine International Convention Center in Pasay City, DOH officer-in-charge Maria Rosario Vergeire said the move is in compliance with the Universal Health Care Law mandate on the transfer of the HTA Council as an attached agency to the DOST within five years after its establishment.
"Rest assured that the Department of Health will continue to provide assistance to the DOST for the smooth transfer of the HTA," she said.
"Through a whole-of-government and whole-of-society approach, we will continue to develop and improve our health systems to cater for the needs of every Filipino," she added.
The HTA Council and the HTA Division were established during the coronavirus disease 2019 (Covid-19) pandemic wherein they were able to produce several assessment topics and recommendations.
HTA Council Chairperson Dr. Marita Reyes said the DOH will continue to be the "end user" of their services.
"On our list of things to do, we are to refine our methods and processes, and we're looking forward to more capacity building horizontally because we're trying to set up the Health Technology Assessment Research Network which the DOST will help us set up," she said.
The council is also looking forward for more support from the Department of Budget and Management for more personnel to increase its capacity to do assessments, she added.
Currently, the HTA Philippines is in partnership with the DOST-Philippine Council for Health Research and Development for the conduct of selected assessments from the 2023 HTA priority topics through commissioning with external research entities.
Moving forward, it aims to perform the early HTA, which advances the conduct of assessments of health technologies at the early stages of clinical research and can guide the innovation development process. (PNA)