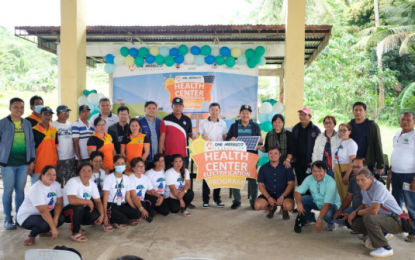 MANILA – Residents of an island community in Iloilo province are set to benefit from better health services after One Meralco Foundation (OMF) energized an off-grid health center in the town of Concepcion.
The project involves a 1-kilowatt peak (kWp) solar photovoltaic system for the Barangay Polopiña health center, which caters to the basic medical needs of nearly 4,000 individuals residing in various sitios of the island village.
The new solar facility will energize crucial equipment that can contribute to the improvement of medical services in the community.
Health care workers can now use nebulizers critical for patients with asthma, pregnant women can now be monitored using dopplers, and cold storage for essential medicine and vaccines can now be utilized. In addition, the health center is now sufficiently lit and ventilated resulting in a more conducive environment for patients.
"With electricity access, our barangay health care workers are now able to use equipment that were lacking during the absence of electricity," OMF Trustee and Meralco First Vice President and Chief Commercial Officer Ferdinand Geluz said in a news release on Monday.
"In the coming years, One Meralco Foundation will continue these electrification programs in the hopes of reaching more remote communities with the intention of providing this basic necessity to our countrymen," he added.
With the energization of the health facility, barangay health worker Cristina Dumaraog said medical services can now be expanded to emergency response for patients and maternity care for pregnant women aside from medicine dispensation and limited consultations.
"The electricity service will limit risks for patients especially pregnant women who need to travel by boat even during inclement weather for health service," said Dumaraog, who has been serving the community as a barangay health worker for over 20 years.
Concepcion Mayor Milliard Villanueva said the OMF electrification project provides the island community of Barangay Polopiña with convenient access to expanded medical services especially during emergencies.
"This project literally gave us light and is a very big help in providing better health service to our community," he said.
The energization of rural health centers is among the fresh initiatives of OMF under its electrification program which also covers off-grid public schools, low-income households in the Meralco franchise area, water access, and agricultural and livelihood programs.
As the social development arm and corporate foundation of Meralco, OMF is committed to spreading the light to underserved communities across the country through sustainable programs that have lasting impact. (PNA)