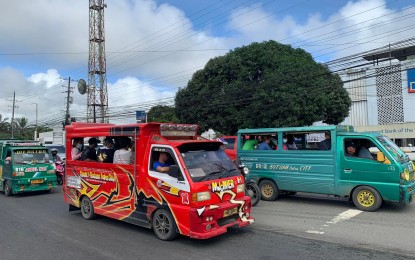 BUTUAN CITY – Caraga Region's biggest transport group decided it was not in the interest of its members to join the weeklong transport strike that began Monday.

Juanito Ubas, chairperson of the Caraga Federation of Transport Cooperatives (CARFEDTRANSCO), said their members opted to continue plying their routes to serve the riding public.

"We are not joining the strike. All our cooperative members will be on the streets to provide transportation services to the people of the Caraga Region," Ubas said in a phone interview.

CARFEDTRANSCO has 18 transportation cooperative affiliates in the different provinces in the region, including Butuan City.

In Butuan City, the Butuan Multicab Operators Transport Service Cooperative and the Balangay Transport Service Cooperative, two major groups federated with the CARFEDTRANSCO, also rejected the call for a nationwide strike.
The strike, led by transport group and party-list Manibela, protests the national government's public transport modernization program.

Normal operations of public utility vehicles were observed in the major thoroughfares in Butuan City on Monday morning.
"The CARFEDTRANSCO joins hands with the government on standing against any form of transport strike that will do more harm than good," the groups said in a statement.

Another group, the Butuan City-Wide Tricycle Transport Cooperative (BCWTTSC), said it opted not to join the transport stoppage and prefers to air their concerns through proper government channels.

"The BCWTTSC believes that legitimate issues affecting the transport sector must only be ventilated in a proper venue. We are supporting the government's transport modernization program," the group said.

Meanwhile, the Land Transportation Office in Butuan City (LTO-Butuan) said it will closely monitor the transport situation in the city throughout the week.
"The different transport groups in Butuan City are in the streets rendering transportation services to the public. The call for transport strike has not affected the flow of transportation services in Butuan," LTO-Butuan chief Danielo Merson Borja said in an interview on Monday. (PNA)