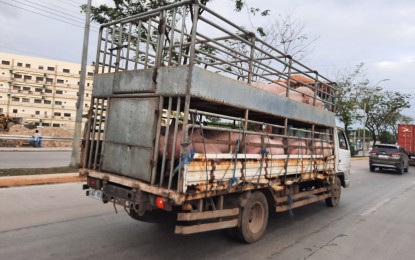 CEBU CITY – The provincial government of Cebu has banned the entry of live hogs, sows, piglets, boar semen, pork, and pork-related products from Negros Island after the detection of the African swine fever (ASF) virus in Carcar City.
Dr. Mary Rose Vincoy, provincial veterinarian, said Governor Gwendolyn Garcia issued Executive Order (EO) 9 on Monday implementing a temporary suspension in the movement of pigs from neighboring provinces to protect Cebu's PHP11 billion hog industry, the largest in Central Visayas.
The order became effective upon its issuance and will last for a month or until April 5.
According to her, authorities detected the presence of the ASF virus in blood samples of hogs in the southern city of Carcar on March 1.
"In our investigation, the blood samples were found to have come from pigs that (co-)mingled with other pigs from Negros while being kept in stockyards," she said.
Vincoy said the Capitol has required all local government units (LGUs) in the province to conduct regular surveillance to detect ASF and other viral infections in hog farms in their localities.
The LGU of Carcar has sealed the slaughterhouse for close monitoring.
She said so far, the other tests have returned negative for the ASF virus.
The provincial veterinarian assured the Cebuanos of enough pork supply in the province.
Garcia also ordered biosecurity measures in seaports and airports by establishing strict border control and veterinary quarantine efforts, as well as cargo and passenger inspections in all ports of entry within the province.
"All livestock transport passes issued for livestock transport vehicles and refer vans from the Island of Negros are hereby revoked and canceled until further notice," the EO read.
The governor ordered the mayors, the Philippine National Police, the Philippine Coast Guard, the Cebu Port Authority, the Mactan-Cebu International Airport Authority, as well as airline and shipping lines to implement the EO.
Meanwhile, Cebu City Mayor Michael Rama has ordered the adoption of Bantay ASF in 80 barangays here to strictly prohibit the entry of live hogs, pork, and pork-related products and by-products whether raw, processed or cooked, and all other meat, chicken, fish, or any other food products that are mixed with pork meat.
Dr. Jessica Maribujoc, head of the Cebu City Department of Veterinary Medicine and Fisheries, said their team is conducting an information drive in the villages here.
Maribujoc said traders, producers, and importers need to secure documents of their live hogs, pork, and pork products. (PNA)