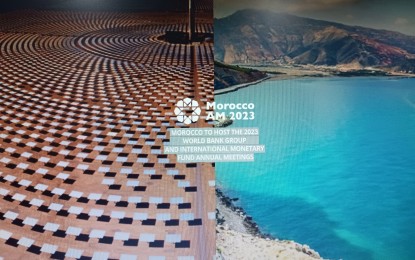 MANILA – Morocco will host the 2023 Annual Meetings of the World Bank Group and International Monetary Fund (IMF) in the city of Marrakech on Oct. 9-15.
The meetings bring together leading figures, finance ministers, and central bank governors from 189 member countries of these institutions, as well as representatives of the private sector, non-government organizations, and academia.
Morocco's choice to host the annual meetings is highly symbolic as it marks the return of these Annual Meetings to Africa after they were held for the first time in Nairobi, Kenya in 1973.
It also affirms Morocco's position on the African continent and the Middle East and North Africa (MENA) region.
Morocco's designation serves to show the proven capacity of the kingdom as a privileged destination for organizing major international conferences and the choice of Marrakech reinforces its reputation as an international city open to the world.
Marrakech is Morocco's leading tourist destination. With 1.3 million inhabitants, it is the fourth most populous city in the country.
Endowed with an impressive cultural heritage with countless monuments and museums, the city has been classified as a World Heritage Site by Unesco since 1985.
The Meetings will be held at Bab Ighli, formerly the main entrance to the old city (the medina), which takes its name from the guards responsible for protecting its access.
Bab Ighli, a vast expanse of more than 300 hectares located just outside of the city walls towards the Ourika valley, was where the COP22 for Climate was held in November 2016, hosting about 30,000 participants, as well as the First African Summit on Climate Action.
The 2023 Annual Meetings offer the opportunity for the kingdom to strengthen its attractiveness and promote its image: a stable and tolerant, open and dynamic country, rich in its intangible heritage, history, culture, and gastronomy, and marked by the progress made over the past 20 years at the democratic, social, and economic levels.
To register and to learn more about the event, visit https://moroccoam2023.ma/ (PNA)