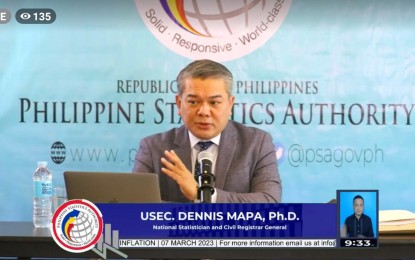 MANILA – Headline inflation in February this year eased to 8.6 percent from 8.7 percent the previous month, the Philippine Statistics Authority (PSA) reported Tuesday.
In a virtual press conference, PSA Undersecretary Dennis Mapa said prices of goods and services remained elevated despite the slowdown in inflation.
The PSA attributed the easing of inflation last month to the slowdown of transport group prices to 9 percent from 11.1 percent in January 2023.
Mapa said that out of the 13 commodity groups, only transport recorded a slower inflation in the previous month.
Despite the easing of inflation rate for transport, the group is one of the top three contributors to the increase in prices of goods and services in February.
The group is only behind food and non-alcoholic beverages with February inflation of 10.8 percent and sharing 47.5 percent to the total inflation last month.
Housing, water, electricity, gas and other fuels with inflation of 8.6 percent and contributing 21.4 percent to the national inflation in February.
In a separate statement, National Economic and Development Authority (NEDA) Secretary Arsenio Balisacan recommended the urgent creation of a high-level inter-agency committee that will advise the Chief Executive and the Cabinet on measures to keep food prices stable and ensure food security.
"We must rethink our strategies to combat rising food prices. The country's current high inflation is largely driven by domestic, supply-side constraints. Agricultural imports were ill-timed and food supplies have been inadequate. The solution is to get to the root of the problem, including fixing the bottlenecks along all segments of the agricultural value chain," Balisacan said.
He also underscored the importance of continuing the targeted social protection programs to help the poorest families and vulnerable sectors of the country.
PSA reported that inflation in the bottom 30 percent income household stood at 9.7 percent last month, the same rate in January 2023.
"These short-term assistance programs will be complemented by productivity- and efficiency-enhancing measures in the medium term, as outlined in the Philippine Development Plan 2023-2028," Balisacan added.
Meanwhile, inflation in Metro Manila in February 2023 was at 8.5 percent, while it was at 8.7 percent in areas outside National Capital Region. (PNA)