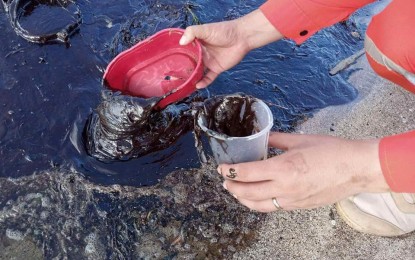 MANILA – Expressing concerns over serious damage that the oil spill may bring to the environment and marine life, a lawmaker on Tuesday pushed for the investigation, in aid of legislation, of the incident caused by the capsizing of MT Princess Empress in the waters off Naujan town in Oriental Mindoro province on Feb. 28.
Cavite 4th District Representative Elpidio Barzaga Jr. filed House Resolution No. 829 calling for the full inquiry into the oil spill a day after the Department of Environment and Natural Resources (DENR) announced it has located the sunken tanker that was carrying 800,000 liters of industrial oil.
Barzaga said the oil spill has affected around 10 municipalities but could also reach other coastal islands, including Palawan, Antique and Romblon.
"Additionally, the oil spill might affect 20,000 hectares of coral reef, 9,900 hectares of mangroves, and 6,000 hectares of seagrass and could possibly coat the marine habitats and animals…which can clog the gills of fish and marine invertebrates…damage the feathers of bird and fur of marine mammals," he stated in the resolution.
Oceana, an international environmental group, earlier called on the government "to immediately implement mechanisms and actions to stop further damage on the marine environment, fisheries resources and livelihood in the affected Verde Island Passage which is the 'center of the center of marine biodiversity in the world.'"
It also asked the government to "start the investigation and testing on the extent of contamination…immediate assistance of the local fisherfolk dependent on the affected body of water."
The capsized tanker, the DENR said, is about 1,200 feet below sea level and located 7.5 nautical miles from Balingawan Point, facing Pola municipality in Oriental Mindoro.
The DENR added that the tanker is "believed to have moved southeast from its last known position where it completely submerged."
The environment department, however, said it still needs to verify the location by deploying a remotely-operated vehicle (ROV) "which will allow us complete visualization should the currents and weather permit."
"We are now preparing to access an ROV in order to fully determine where the vessel actually is and to completely model the way the oil will be spilling from the vessel," the DENR said. (PNA)