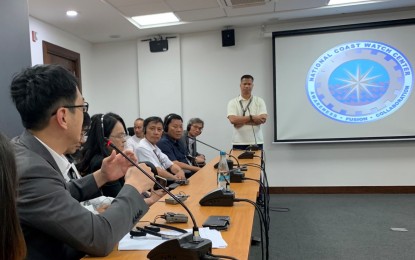 MANILA – The United States, together with Customs, Coast Guard and legal officials from the Philippines, Indonesia, Vietnam and Taiwan has sought to strengthen regional cooperation in enforcing international maritime sanctions, the US Embassy in Manila said Tuesday.
In a US-led workshop, held from Feb. 28 to March 2, participants developed closer working relationships to jointly address sanctions evasion activities in the region, the embassy said.
They also joined tabletop exercises where they applied skills in investigating and preventing sanctions evasion.
Delegates discussed the impact of sanctions on key stakeholders; regional examples of sanctions evasion; challenges to the enforcement of sanctions; and models for implementing relevant United Nations Security Council resolutions.
"This event is a great opportunity for the delegates to meet and share each nation's response to maritime sanctions evasion activities. The workshop and relationships developed will provide contacts for future collaboration and cooperation," the embassy's Export Control and Border Security (EXBS) Program Regional Advisor Ransom Avilla said.
Philippine Strategic Trade Management Office (STMO) officer in charge Director Janice Dimayacyac recognized the initiative's potential contribution in preventing illegal trade activities in the region, especially with Southeast Asia which is "located in a strategic area prone to various sanctions evasion tactics".
While in Manila, the participants also visited the Philippine National Coast Watch Center for a briefing on the center's functions and its best practices in countering maritime threats.
The EXBS program, under the Export Control Cooperation Office of the US State Department's Bureau of International Security and Nonproliferation, seeks to prevent the proliferation of weapons of mass destruction, destabilizing and irresponsible transfers of conventional arms and illegal exports of strategic goods by building an effective national strategic trade control system worldwide. (PNA)