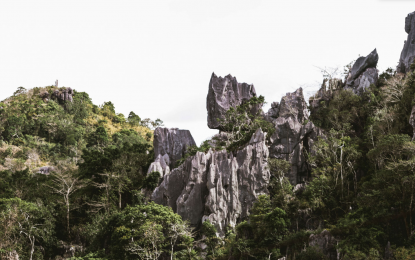 MANILA – Senators urged the national government to recover the Masungi Rock Formation in Tanay town, Rizal province that is currently included in the 300-hectare property owned by the Bureau of Corrections (BuCor).
Senator Nancy Binay said on Tuesday that in order for the rock formation to be protected and preserved, it should stay under the ownership of the national government.
"'Yung mga ganitong (These kinds of) assets should stay with the Republic of the Philippines, 'di ba? Hindi dapat nililipat to (right? It should not be transferred to) any government agency," said Binay, who presided over a public hearing of the Committee on Tourism.
Lawyer Norlito Eneran, Department of Environment and Natural Resources (DENR) legal affairs director, said regaining the rock formation only needs a presidential proclamation.
"Considering that it is titled in favor of the government, sa tingin ko hindi na kailangan ng legislation (I think legislation is not needed). It's through the act of the President. Pwede niyang i-set (He can set) aside for a specific purpose," Eneran said.
BuCor is still exploring its options and no final decision has been reached on whether it would relocate its headquarters in Muntinlupa City to the Tanay property.
"The plan to relocate its national headquarters to this site will be held in abeyance pending further studies to be undertaken, taking into consideration the impact on the environment with the construction of BuCor facilities in the area," Gregorio Catapang Jr., BuCor acting director general, told the committee.
It drew praises from Senate Deputy Minority Leader Risa Hontiveros.
"Mabuhay po para sa desisyon ninyo. At least, to hold in abeyance muna habang pinag-aaralan ninyo (I commend your decision. At least, it is being held in abeyance while you are studying it)," Hontiveros said.
Hontiveros is the author of Senate Resolution No. (SRN) 231 which prompted Binay's committee to discuss the various reported illegal activities affecting the Masungi Georeserve as a whole.
Previously, Justice Secretary Jesus Crispin Remulla said he has met with DENR Secretary Antonia Loyzaga about the Masungi Georeserve and agreed on a singular position.
"We will speak in one voice on this matter. There should be no problem. Pro-environment tayo, hindi natin kalaban ang environmentalists. May mga tao lang syempre na alarmist tungkol dito (We are pro-environment. Environmentalists are not our enemy. There may be people who are just being alarmists about this)," Remulla said.
Senators Pia Cayetano and Binay likewise filed SRN 495 and 500, respectively, questioning the construction of BuCor's headquarters in the ecotourism site.
"Masungi plays a crucial role in our conservation efforts. Being at the forefront of our efforts to conserve, restore, and improve the environment, Masungi provides us with a template of how we can tackle the very urgent issue of climate change," Binay said.
Binay and other senators are set to visit the Masungi Georeserve for an ocular inspection on March 27.
In September last year, the Masungi Georeserve bagged the United Nations Sustainable Development Goals Action Award over more than 2,000 other entries from over 150 countries.
Under the Inspire category, Masungi Georeserve Foundation won for its youth-led efforts in combating deforestation and climate change through the restoration and protection of the Masungi landscape and parts of the Upper Marikina Watershed.
Meanwhile, Senate President Pro Tempore Loren Legarda said the national government and local government units must prioritize climate action and disaster risk management following reports that several countries are ill prepared to face increasing disasters.
In a news release, Legarda noted that the Philippines has consistently ranked high among countries that are most at risk for disasters and climate impacts.
The 2022 World Risk Report said the Philippines is the most disaster-prone country in the world due to its high risk, exposure, and vulnerability to disasters and calamities among 193 nations.
Reports from the International Science Council, according to Legarda, showed that some countries cannot respond to disasters such as floods and storms, thus setting back their development gains.
"It's painfully clear that extreme weather events and disasters are becoming more deadly and destructive. The pandemic taught us that preparation is key to averting crises and saving lives. I stress the urgent need once again for our national and local leaders to adequately prepare for and manage these risks, and more importantly, to invest time and resources on resilience-building policies and measures," Legarda said in a statement. (With a report from Leonel Abasola/PNA)