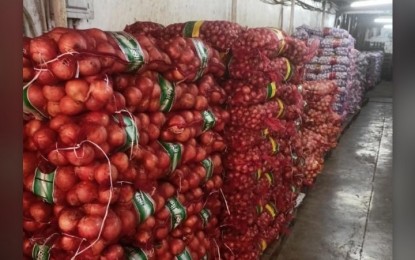 MANILA – The House of Representatives Committee on Agriculture on Tuesday cited three persons in contempt for refusing to turn over their list of clients who stored red onions in their facility during the spike in red onion prices in the last quarter of 2022.
Cited in contempt were ARGO Trading president and general manager Efren Zoleta Jr., operation manager John Patrick Sevilla, and legal counsel Jan Ryan Cruz.
As a result, Zoleta, Sevilla, and Cruz would be detained in the halls of Congress for at least 10 days as provided under the House rules.
Sevilla, who attended the hearing on reports on prince manipulation and hoarding of onions on Tuesday, was immediately detained.
Meanwhile, the House Sergeant at Arms has been directed to locate Zoleta and Cruz, who were not present during the proceedings, for their subsequent detention.
Speaker Ferdinand Martin G. Romualdez backed the decision of the panel chaired by Quezon 1st District Rep. Mark Enverga to cite the three persons in contempt.
"I am in full support of the decision of the Committee on Agriculture," Romualdez said in a statement.
He pointed out that the committee's move is in accordance with the exercise of its mandate to pursue the congressional inquiry aimed at stopping price manipulation and hoarding to bring down the price of onions.
"Malinaw ang layunin namin nang simulan ang mga hearings na ito. Kailangang maipababa ang presyo ng sibuyas sa lalong madaling panahon. Kailangang makilala kung sino ang bumubuo ng kartel na nagmamanipula ng presyo ng bilihin. Kailangang buwagin ang mga kartel na ito na nagpapahirap sa bayan (Our objectives were clear when we started these hearings – to bring down the prices of onion as soon as possible. Members of the cartel manipulating the price of commodities must be identified. These cartels, which are the bane of our people, should be stamped out)," he said.
Romualdez directed Enverga's panel to conduct the probe on February 5, and possibly recommend the filing of economic sabotage charges against alleged "unscrupulous traders and hoarders of onion and garlic."
He emphasized that the House leadership would "not allow anyone to make a mockery of the hearings now being conducted by the Committee on Agriculture and Food."
"We expect every resource person invited to tell the truth. No more, no less. I advise those who are invited to the hearings: magsabi lang po kayo ng totoo. Kung lolokohin lang ninyo ang Committee, sa detention center ang bagsak ninyo (just tell the truth. If you would only mock the Committee, you'll end up in the detention center)," he said. (PNA)