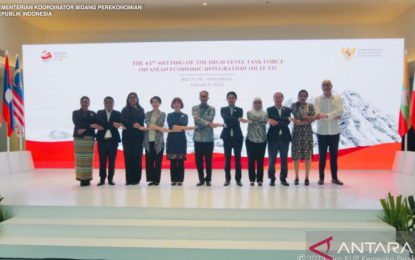 JAKARTA -- Sustainable development, including the energy transition and the development of electric vehicles and blue economy, should be encouraged during Indonesia's ASEAN chairmanship in 2023, an official from the Coordinating Ministry for Economic Affairs has said.
"ASEAN is a promising region and has sufficient resources to develop the electric vehicle and blue economy ecosystems as the region's new growth drivers," Deputy for the Coordination of International Economic Cooperation at the coordinating ministry Edi Prio Pambudi said in a statement released on Monday.
The sustainable development issue was discussed at a meeting of the 43rd High-Level Task Force on ASEAN Economic Integration (HLTF-EI) to prepare the region to face various global challenges, starting from the impact of pandemics, climate change, to geopolitical tensions.
The participants of the meeting expressed support for the development of the electric vehicle ecosystem from upstream to downstream and the improvement of investment in electric vehicles.
They also supported the establishment of an electric vehicle spare part supply chain, as well as the development of a battery waste processing facility.
Regarding the development of the ASEAN Blue Economy Framework, the members of the HLTF-EI on ASEAN agreed on a Concept Note on the Development of the ASEAN Blue Economy Framework.
The document is expected to become a guideline for the region to protect and generate added value from its marine potential.
Furthermore, the meeting participants agreed to support Indonesia's initiative to improve sustainable energy security through regional interconnectivity.
Several energy cooperation projects were also discussed on the occasion, such as the Brunei Darussalam-Indonesia-Malaysia-Philippines Power Integration Project (BIMP-PIP) as well as hydro energy cooperation between Laos and Singapore.
The meeting also discussed the ASEAN Guidelines on Good Regulatory Practices as well as the latest developments in the improvement of the ASEAN Comprehensive Recovery Framework (ACRF).
"The various issues discussed (in the meeting) will become the foundations for the establishment of the ASEAN Post-2025 Vision, which will also be supported by the Working Group on AEC Post-2025 Vision on the economic pillar," Pambudi added. (Antara)