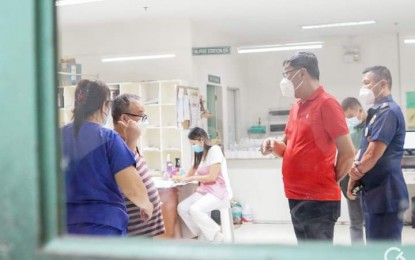 BACOLOD CITY – The City of San Carlos in Negros Occidental province has lifted its state of health emergency after active diarrheal cases decreased in the northern Negros locality.
Last Feb. 22, Mayor Renato Gustilo declared a state of health emergency, following an alarming increase in local amoebiasis cases.
On Tuesday afternoon, the city government released a copy of Gustilo's Executive Order 96, lifting the declaration.
"Since the number of amoebiasis cases have already subsided in the last few days, there is a need to lift the state of emergency in San Carlos City," the mayor said.
Previous data showed that from Feb. 1 to March 1, cases of amoebiasis and acute gastroenteritis totaled 469 across all its 18 barangays.
At the San Carlos City Hospital, there were only 24 active diarrheal cases on March 7 compared to the 52 active cases on March 1, the day teams from the regional and national offices of the Department of Health (DOH) arrived in the city to conduct an investigation.
In a report, the DOH Epidemiology Bureau confirmed a diarrheal outbreak in the city.
Results of water analysis showed that out of 25 sampling points, 18 were positive for coliform while six were positive for E. Coli bacteria.
Food and waterborne diseases such as cholera, typhoid fever, and amoebiasis are characterized by diarrhea, nausea, vomiting with or without fever, abdominal pain, headache, and body malaise.
An illness is acquired through the ingestion of food or water contaminated by disease-causing microorganisms. (PNA)