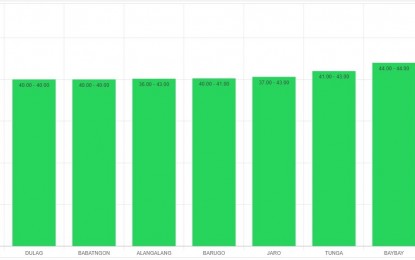 PALO, Leyte – The provincial government here has launched an online price monitoring tool, allowing traders and consumers to check where to buy the cheapest basic farm products.
During the event late Tuesday at the provincial government complex here, Governor Carlos Jericho Petilla said PricEat Leyte, a project supported by the Department of Agriculture, provides buyers with an online tool to monitor prices in all towns of the province.
Petilla recalled that price monitoring in the past is done using pen and paper and the coverage is only limited to three cities – Tacloban, Ormoc, and Baybay. This prompted them to digitize the process and make the data available to everyone.
PricEat Leyte can be accessed by opening leyteprovince.gov.ph website and clicking on the services menu. The website visitor can select a category, commodity, town, and date.
"The information is updated daily by personnel from the local agriculture offices. The tool also provides the name of the store and the time and day of monitoring. Staff from local agriculture offices are trained on how to update the tool," Petilla told local officials in the province during the launch.
The tool, according to the governor is beneficial to consumers of agricultural products, giving them more options and choices where to go to purchase their supplies.
Developing the tool is part of the digitalization program of the governor.

The implementation of the price monitoring system in the province was based on Provincial Ordinance No. 2023-01 entitled "An ordinance establishing the Provincial Food Supply and Price Monitoring System of the Province of Leyte." authored by Leyte 5th district Board Member Carlo Loreto.
Under the provincial ordinance, the province is mandated to create a technical working group, formulate the necessary implementing rules and regulations, and conduct information dissemination, education, communication training, and seminars.
The ordinance also mandates that the local government units under Leyte province will adopt the program for monitoring and information gathering of the prices and supply of basic agricultural commodities within their respective jurisdiction and upload the information online. (PNA)