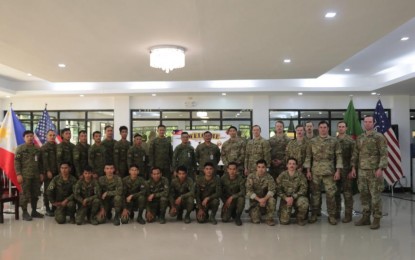 MANILA – Troops of the First Scout Ranger Regiment (FSSR) and the US Special Operations Command Pacific (SOCPAC) kicked off their joint training activity aimed at improving the sniping capabilities of both forces in jungle and urban environments.
Philippine Army (PA) spokesperson Col. Xerxes Trinidad, in a statement Wednesday, said the training began at the FSSR base in Camp Tecson, San Miguel, Bulacan on March 6.
"The exercise is an annual bilateral training activity that focuses on cross-training and bolstering the interoperability of the PA Special Operations Forces and US Army SOCPAC. The 2023 iteration of the exercise will focus on sniper operations and target interdiction in the jungle and urban environment," Trinidad said.
The training course known as Exercise SOCPAC Piston (ESP) 23-2, formerly known as Exercise Balance Piston, is expected to conclude within this month, he said.
"The ESP will be participated in by 25 personnel from the 21st Scout Ranger (SR) Company; SR School; Scout Sniper Platoon; and personnel from the Special Forces Operational Detachment Alpha 1316, Bravo Company, 1st Battalion, 1st Special Forces Group (Airborne), US Army," he added.
Meanwhile, the Army Signal Regiment on Tuesday unveiled its new warehouse facility.
"The signal warehouse will be a storage of the Army's signal equipment that is significant for combat effectiveness.
The facility will also serve as a depository of command and control communications, and cyber systems (C4S) assets prior to issuance down to Army units," Trinidad said.
Army Signal Regiment commander Col. Alejandro J. Papa said the new warehouse would help in the preservation and maintenance of the PA's C4S assets.
"This building is specifically built for the whole PA and let's use it wisely and effectively. With this new development and your continuous efforts, I am sure that the command will scale new heights in all aspects," Papa said. (PNA)