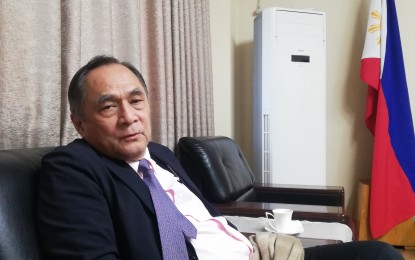 BEIJING – Philippine Ambassador to the People's Republic of China Jaime FlorCruz said Beijing's move to increase its defense budget by 7.2 percent to 1.55 trillion yuan (about USD225 billion) for 2023 is normal among the big economies, like China, to boost their military capabilities.
"I think the Chinese defense strategy is more conditioned with their rivalry with the other superpowers and it is not aimed at any regular region like ours," FlorCruz said in a media interview at the Philippine Embassy here on Tuesday night.
He said the Chinese officials explained that the defense budget has been increasing for their national interest.
FlorCruz said he is hoping that "big powers" will pursue peaceful approaches to resolving issues, "especially in our region, in our backyard."
The Philippines is one of the 10 member countries of the Association of Southeast Asian Nations (ASEAN). Several countries in the region, including the Philippines, and China have overlapping claims in the South China Sea.
FlorCruz said it is not surprising that rising powers like China, the world's second largest economy, keep on beefing up their defense capabilities.
"I think the Chinese concept is: to prevent war, we have to prepare in case of war," he said.
"If you think of the other countries, especially the US, again they have been increasing their military capability and, therefore, budget all these years and again the Chinese compare theirs with America," he added.
In a press conference on March 4, spokesperson for the first session of 14th the National People's Congress (NPC) Wang Chao described China's defense budget increase as "appropriate and reasonable."
The figure is slightly higher compared to last year's 7.1 percent, marking the eight consecutive years that China has increased its defense budget.
Wang said the increase is needed for meeting complex security challenges and for China to fulfill its responsibilities as a major country.
In delivering the government's work report during the opening of the first session of the 14th NPC on March 5, Chinese Premier Li Keqiang said China's "armed forces should intensify military training and preparedness across the board."
"The people's armed forces intensified efforts to enhance their political loyalty, to strengthen themselves through reform, scientific and technological advances, and personnel training, and to practice law-based governance. They stepped up military training, increased combat preparedness, and became a much more modernized and capable fighting force," Li said.
Li also said China's economy is expected to grow "around 5 percent" this year. (PNA)