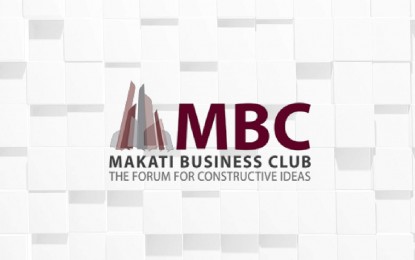 MANILA – The Makati Business Club (MBC) has welcomed the approval of President Ferdinand R. Marcos Jr. to establish the Interagency Committee on Inflation and Market Outlook that will guide the Chief Executive and his Cabinet on ways to combat inflation.
"We applaud the government making this highly pro-active move to strategize against inflation," said MBC executive director Francisco Alcuaz Jr. in a statement.
On Tuesday, National Economic and Development Authority (NEDA) Secretary Arsenio Balisacan said Marcos approved the creation of the high-level interagency advisory body that will help the President and the Cabinet to mitigate the impacts of increase in prices of goods and services, which the country has been experiencing in the past months.
Despite the easing of inflation in February 2023 to 8.6 percent from the 8.7 percent inflation the previous month, the Philippine Statistics Authority (PSA) said February inflation remains elevated.
"Inflation --some global, some local-- is the strongest headwind threatening our recovery, job creation, and cost of living," Alcuaz said.
The interagency committee will be chaired by the NEDA and the Department of Finance, with the Department of Budget and Management as the vice chair.
The advisory group will also be composed of the Departments of Agriculture (DA), Trade and Industry (DTI), Energy (DOE), Science and Technology (DOST) and Interior and Local Government (DILG), with the Philippine Statistics Authority (PSA), Bangko Sentral ng Pilipinas (BSP) and Philippine Competition Commission (PCC) as its resource institutions.
"It's a confidence booster for the government to organize its big guns to fight it (inflation)," Alcuaz added.
The MBC said the group trusts that the new advisory body will not only address supply and logistics issues, but also provide measures to combat immoral and illegal profiteering. (PNA)