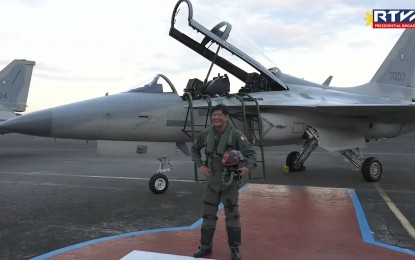 MANILA – President Ferdinand R. Marcos Jr. on Wednesday lauded the flight maneuver skills of Philippine Air Force (PAF) pilots, emphasizing the need to continue modernizing and improving the Armed Forces of the Philippines' (AFP) military capabilities to effectively safeguard the country's maritime territory.
He made this remark a day after flying onboard an FA-50PH fighter jet at the Clark Air Base in Pampanga to witness its capability in a flight demonstration.
The activity was conducted upon the invitation of the PAF for the Commander-in-Chief to personally test the aircraft.
The fighter jet was piloted by Lt. Col. Malbert Maquiling.
"Ang gagaling talaga ng piloto natin (Our pilots are really skilled). That's why we have to continue to encourage the modernization of our Armed Forces para 'yung capabilities natin ay mas tumibay pa (so that our capabilities are beefed up)," he said in a media interview during the launch of the Kadiwa ng Pangulo para sa Manggagawa in Quezon City.
"And we saw some of the capabilities that were demonstrated to me during the flight and we can see how important this increase in our capabilities is going to be, especially in the defense of our maritime territory," he added.
Marcos described his flight as a "fantastic" and "interesting" experience.
He said he "took advantage" of the chance to be a passenger in the fighter jet because he had always wanted to do it.
"Kasi nabanggit ko na noong lumilipad 'yung mga fighter jets doon sa pag-uwi namin galing sa mga bisita, eh nabanggit ko sabi ko masarap siguro makasakay man lang. So pinagbigyan naman ako (I mentioned that it could be enjoyable to be able to ride a passenger jet so they allowed me to do it)," he said.
Asked if the fighter jet flew over the West Philippine Sea, Marcos said they only had the chance to fly over the sea's coastline.
"Hindi naman, hindi kami masyadoong lumapit doon. We were – along the coastline lang kami (No, we didn't get too close there. We were just along the coastline)," he said.
On Tuesday, Marcos was in Clark Air Base to lead the acceptance and turnover of the last of three C-295 Medium Lift Aircraft units acquired by the Philippines from Spain, saying these planes are expected to boost the country's defense capabilities.
This unit is one of the three brand-new C-295 Medium Lift Aircraft of which two units were delivered last year. These are expected to augment the four units previously acquired by the Philippine Air Force (PAF) in 2015 and 2019.
The PAF now has seven units in its inventory.
Manufactured by Airbus Defence and Space, the C-295 twin-turboprop transport aircraft is the newest generation of tactical airlifter in the light and medium segment that can be utilized for various missions such as medical evacuation, paradrop/airdrop, civic and humanitarian airlift missions, among others. (PNA)