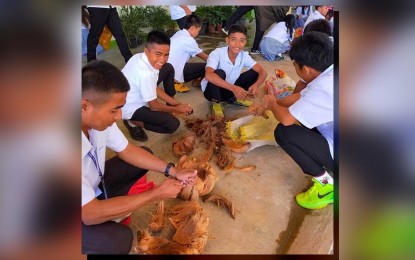 SAN JOSE DE BUENAVISTA, Antique – Learners of the Caluya National High School are donating coconut husks and plastic bottles to be made as oil spill booms to be used to stop the further spread of the oil slick that has reached the coastal lines of the three barangays in their island municipality in this province.
Evelyn Remo, Department Education (DepEd) Division of Antique chief on School Governance and Operations, said in an interview Wednesday the youth responded to the appeal of their local government unit (LGU) to donate raw materials for the improvised spill booms. Mayor Rigil Kent Lim has appealed for the "bayanihan" spirit (cooperation) of the people in Caluya to avert the spread of the oil spill.
"The Caluya mayor made the request because of the oil spill from the sunken M/T Princess Empress that had already affected some barangays of the island municipality of Caluya," Remo said.
Antique Provincial Disaster Risk Reduction and Management Officer (PDRRMO) Broderick Train, in another interview, said other LGUs in the province have already responded to the appeal.
Among the first to respond was the municipality of Tobias Fornier with its human hair donation in coordination with the Department of Environment and Natural Resources (DENR) on how to convert the donated hair into spill booms.
"Tobias Fornier LGU has sent us 10 sacks of human hair to be made as oil spill booms," Train said.
Officials of the oil spill-hit island municipality are also asking for donations of bamboo, rice straw, straw lace, plastic bottles, and other materials that could be made into spill booms.
"Once the spill booms will be made, it will be transported to Caluya," Train said.
The oil spill was the result of the Feb. 28 sinking of tanker Princess Empress, which carries around 800,000 liters of industrial oil, in the vicinity waters off Naujan town, Oriental Mindoro province.
Meanwhile, the Philippine Air Force (PAF) helicopter transported personnel of the Department of Health (DOH) from the Iloilo Airport to Semirara, Caluya on Wednesday.
"The DOH personnel are there to assist the affected barangays and its residents," Train said.
He added that on March 4, Governor Rhodora Cadiao also requested the PAF and the Philippine Navy to assist in bringing relief goods to Caluya.
However, the Semirara Mining and Power Corporation (SMPC) already sent a tugboat that has transported the 500 family food packs from the Department of Social Welfare and Development and the 25 sacks of rice from the provincial government to the island town.
"Although there is still a gale warning, but the weather condition has so far improved as compared during the previous days. The relief goods had been transported already," Train said.
Based on the report of the Office of Provincial Agriculture chief Nicolasito Calawag as of March 7, the damage to the seaweed industry in Caluya has already reached more than PHP4 million.
"Antique is number one in terms of seaweeds culture in Western Visayas," Calawag said, adding that 3,408 registered seaweed farmers are cultivating 1,550 hectares. (PNA)