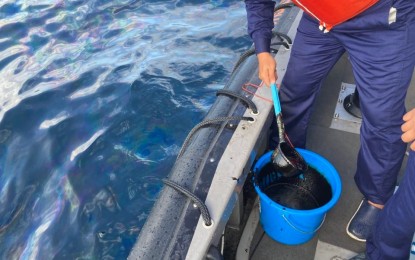 MANILA – Negros Occidental 3rd District Representative Jose Francisco Benitez on Wednesday filed a bill seeking to empower the Maritime Industry Authority (MARINA) to strictly enforce shipbuilding standards and ensure that vessels are constructed and equipped with materials and apparatus to prevent discharge or emission of oil, sewage, garbage and other harmful substances and pollutants into Philippine seas.
Benitez said his proposed House Bill (HB) No. 7515 specifically seeks for the strict compliance of the regulations under the 1973 International Convention for the Prevention of Pollution from Ships or MARPOL 73/78, signed in 2001.
He filed the bill after an oil spill from the sunken MT Princess Empress reached some coastal areas in the Visayas region and Palawan province.
Tanker with 800,000 liters of industrial oil on board capsized in the waters off Oriental Mindoro province on Feb. 28.
The proposed bill mandates the Philippine Coast Guard (PCG) to apprehend and detain ships for violations of the regulations.
He said HB 7515 would be the key to strengthen ships regulation in preventing oil spills and discharge of harmful substances into the sea.
"We signed MARPOL (short for marine pollution) 73/78 in 2001. An implementing legislation is long overdue. We must keep our commitment to international law, and perform our responsibility to protect the environment," Benitez said.
He said his bill is crucial in protecting the country's marine wealth and promoting blue economy and to ensure sustainable development of the national marine resources for the benefit of present and future generations.
"We cannot let another oil spill happen again. Its damage to the marine environment is just too much." It is impossible to express the negative impact to livelihoods and marine ecosystems in monetary terms," Benitez said.
The bill also seeks to impose fines of up to PHP10 million. Proceeds from penalties will be used for clean-up and containment of spilled or leaked substances. (PNA)