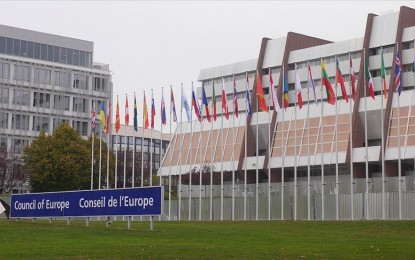 BRUSSELS – The European Union blacklisted on Tuesday nine individuals, including two Afghan ministers and Myanmar's deputy home affairs minister, as well as three entities for human rights violations targeting women.
"The Council (of the European Union) decided today to impose restrictive measures on nine individuals and three entities in view of their role in committing serious human rights violations and abuses, particularly sexual and gender-based violence," the EU institution representing member states wrote in a statement.
The measures punish, among others, Neda Mohammad Nadeem, Taliban's minister in charge of higher education, Sheikh Muhammad Khalid Hanafi, acting Taliban minister for the propagation of virtue, and Myanmar's deputy minister of home affairs, Maj. Gen. Toe Ui.
Two high-ranking officers in Moscow's police station, and two Russian and two South Sudanese military commanders were also blacklisted, as well as the Qarchak Prison in Iran, the Syrian Republican Guard and the Office of the Chief of Military Security Affairs in Myanmar.
"Ahead of the International Women's Day, we move from words to action" and strengthen the EU's "efforts to counter sexual and gender-based violence," EU foreign policy chief Josep Borrell said.
March 8 marks the celebration of International Women's Day.
The decision was taken as part of the EU's global human rights sanctions regime.
It imposes a freeze on the funds and financial assets in the EU of the enlisted people and entities, and it bans EU operators to make economic resources available for them.
It also entails a travel ban for blacklisted individuals.
Adopted in 2020, the EU's global human rights sanctions regime enables the bloc to target individuals and entities responsible for acts such as genocide, crimes against humanity, and other serious human rights violations or abuses. (Anadolu)