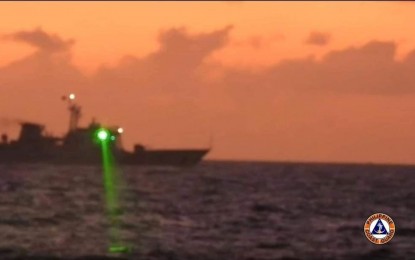 MANILA – The German Embassy in Manila finds the Philippines' shift in its South China Sea policy as an important development in showing the world its willingness to strengthen a rules-based regional order.
"[T]his is really so crucial that the message that the world gets is that the Philippines wants to work in the framework of the rules-based international order to strengthen and to work for its sovereignty and rights and we can support this," German Ambassador in Manila Anke Reiffenstuel said on the sidelines of a Stratbase ADRI forum in Makati, Wednesday.
The Marcos administration, through the Philippine Coast Guard (PCG), last month vowed that it would make maritime incidents in the West Philippine Sea public following the continued harassment it experienced from the Chinese Coast Guard.
PCG adviser for maritime security Commodore Jay Tarriela earlier said the strategy would prompt the Chinese government to issue a statement, noting that Beijing tends to give Manila a silent treatment whenever the latter files a diplomatic protest against the Chinese Coast Guard's reported harassment in the area.
Recently, the PCG admitted that not all incidents were reported in the past, including an alleged laser-pointing incident in June 2022 involving the BRP Habagat.
Reiffenstuel said Berlin will continue to support the Philippines within the framework of its own Indo-Pacific strategy, relaying its readiness to identify with Manila areas where the two states can work together.
"We have Philippine representatives from the Navy, Coast Guard traveling to Germany, participating in international conferences. All these are building blocks," she said.
"For us, with the history Germany has, it is very important to underline it's not the military that makes a difference but a comprehensive approach," she added.
In her keynote speech, Reiffenstuel said "gray zone" operations in the South China Sea, which security experts said include a country using its coast guard to assert their claims over the area, "threatens stability in the region".
"The South China Sea is a vital waterway that sees a significant amount of global trade and is home to numerous island chains including the Spratly Islands and the Paracels," the envoy said.
"Gray zone operations in the South China Sea are aiming to assert territorial claims in the region through non-military means through the deployment of coast guard vessels and maritime militias and the fortification of islands and elevations. Such actions violate international law and threaten stability in the region," she added.
As these actions are mostly below the threshold of what constitutes aggression, she said parties involved need to be "innovative" in their response.
"We need to strengthen partnerships with like-minded countries in the region. This can involve cooperation on maritime security, information-sharing, joint military exercises and cooperated diplomatic efforts," she said.
"We also need to enhance maritime domain awareness through the use of advanced technologies," she added. (PNA)