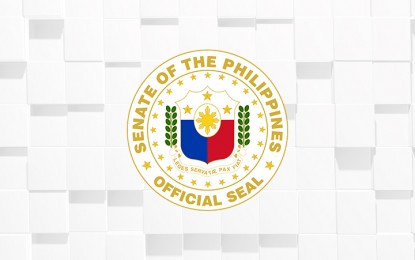 MANILA – Senators on Wednesday threw their support to Senate President Juan Miguel Zubiri as they also dismissed a rumor that he "nearly lost" his post after Malacañang reportedly is not satisfied with his leadership due to low productivity.
Senator Sonny Angara said that a low output was expected at the start of the lawmakers terms, and that it is "too early to pass judgement" as he sees an increase in output during the second year of Zubiri's term.
Angara said that during the second year, there will be an increase in output since the committees have buckled down to work and there will be results from the committee reports and laws.
"I think Senator Zubiri is a very good leader... He should be given a chance as it is way too early to pass judgement," Angara said in his message to the Senate media.
Senate hearings from June to October 2022 are a mixture of budget deliberation and investigations, while committee reports usually occur in January until the adjournment of the First Regular Session.
Zubiri on Wednesday addressed the news report as nothing but "tabloid gossip, rubbish" and a figment of someone's boredom as he defended the Senate performance, insisting that it was a separate institution not a "rubber stamp."
"First off, all (senators) carefully study each and every measure as we debate on these thoroughly to improve every draft legislation. With due respect, we are not a rubber stamp institution. There has been no talk of leadership changes as well as any warnings from anyone on the low output of the Senate," Zubiri said in a statement on Wednesday.
Zubiri was elected by 19 out of the 24 senators.
He said he will step down if he is no longer supported by his colleagues.
"I and the majority of senators are satisfied and happy with the leadership of Senate President Zubiri," Senator JV Ejercito said.
Citing unnamed sources, an online article on March 7 alleged that Zubiri's "lack of productivity" and slow pace in approving bills prioritized by Malacañang would result in his replacement.
"This news article is obviously a desperate and pathetic move to destroy not only the reputation of Senate President Migz Zubiri but also to destabilize the integrity of the Senate as an institution," Senate Majority Leader Joel Villanueva said.
"This (news article) is totally untrue... Let us focus on our job, to enact laws that best serve our people. At this crucial time in our national life, let's not waste any minute on useless, imaginary thoughts that do not uplift lives," Senate President Pro Tempore Loren Legarda said.
Zubiri "enjoys the full trust and support of the majority," said Senator Win Gatchalian .
"Senator Migz is one of the most progressive, hardworking and unifying Senate Presidents... very strong support from his colleagues," Sen. Grace Poe said. (PNA)